If you've spent any time on the internet you may have heard about this blogging thing.
Unfortunately, you may be one of many who think it's just for funny pictures or stay-at-home moms.
THINK AGAIN MY FRIEND!
Any retailer can be an effective blogger – and by effective I mean USING BLOGGING TO MAKE SALES!
Don't believe me? Let's take a look at 7 retailers with blogs that are making them a TON OF MONEY. Maybe they'll give you some inspiration and insight to start your own blog up!
1. Mr. Porter
Mr. Porter describes itself as the "premier global online retail destination for men's style" – meaning they sell men's clothing from high fashion brands.
There are a ton of companies doing this – including the brands themselves – so why is Mr. Porter so successful? Simply because of their intense focus on editorial content on men's fashion & lifestyle that perfectly complements its products.
That's right – blogging is not just for women. Men are just as good of a market to blog for.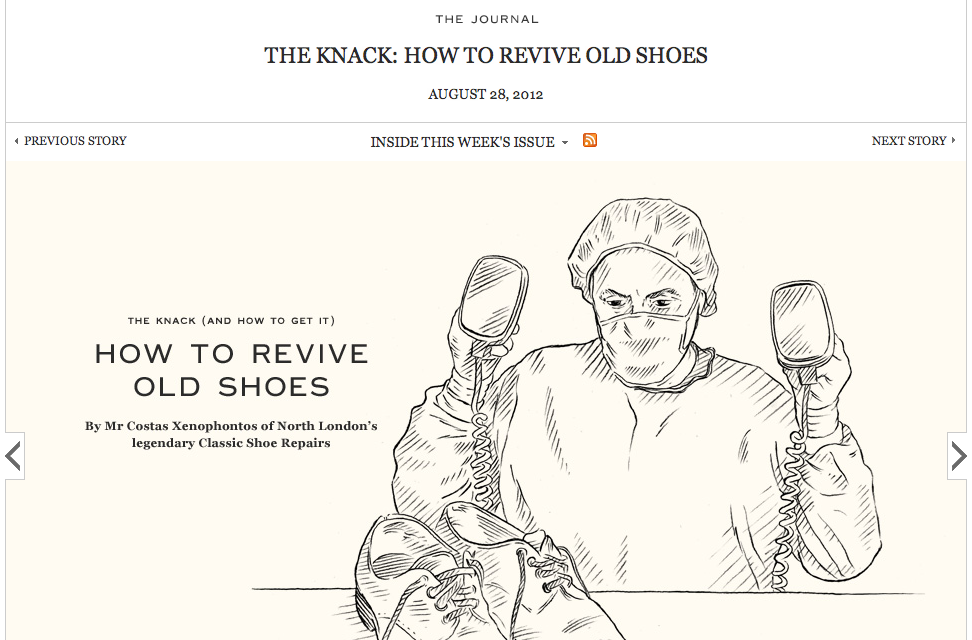 Why it's Exceptional
Mr. Porter's blog The Journal is the ultimate men's style source. Remember J. Peterman's outlandish product descriptions from Seinfeld?  This is the tactic that Mr. Porter has taken – albeit in a good way – that has given them such success. Every week, they publish their lists of the top fashions – a recent article went into great detail about "Bold Knits" and how men like Kurt Cobain and Robert Redford wore them impeccably.
They also write lifestyle articles aimed directly at their target market. Think of the young affluent male shopper: He's not only thinking of fashion but also of which exotic destination to travel to next and possibly about getting married – as most do around a certain age. The Journal goes into the mind of these shoppers with articles about these topics written by the target market themselves.
2. Allstate
While not a typical "blog", Allstate's Teen Driver Program on their website is a great source of information and activity for teen drivers – and their parents – who are planning to get their license. They provide helpful videos and games for teens to help them learn how to drive, while at the same time providing helpful information to overly-anxious parents – think of it as Shrek in the form of an insurance website.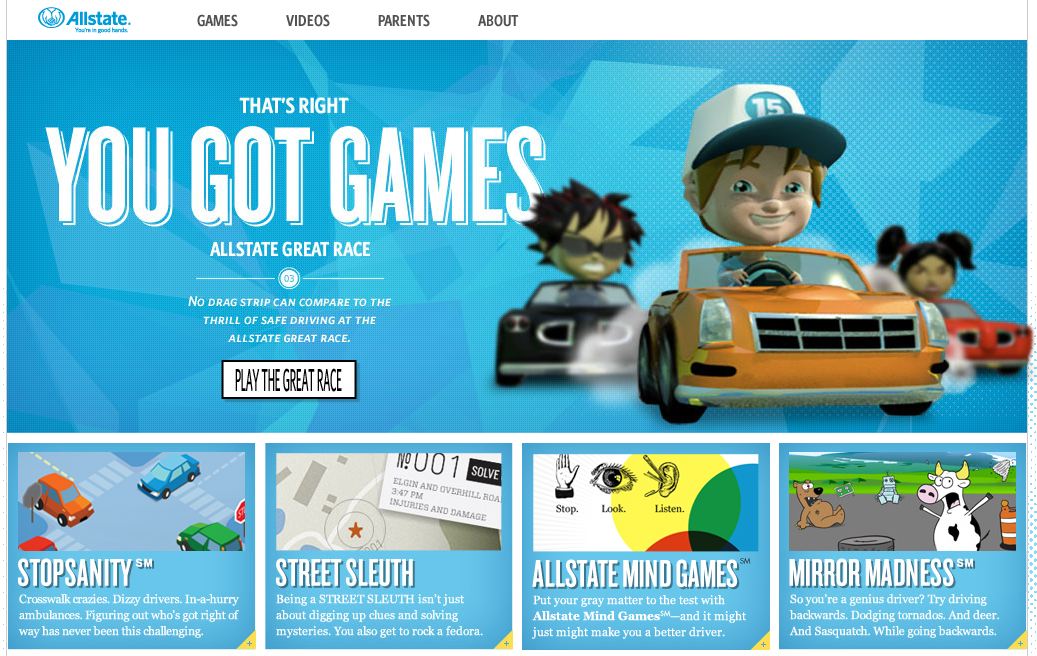 Why it's Exceptional

Allstate is providing content that targets customers at exactly the right time – when they will be getting their license for the first time and will also be needing insurance. Once they feel the euphoria of getting that license they will be very inclined to think of Allstate as the place to get insurance from – after all, they helped them get access to the car they are now insuring.
The content – specifically the games – that they're providing is fun! Teenagers don't want to read another textbook on how to drive, so providing an interactive game for them to learn from is the perfect way to get them engaged.
3. Bluefly
Bluefly has a few blogs that talk about the usual fashion news – but their BlueTube channel is truly unique & exceptional content.
Have you ever wanted to look into the closets of your favorite Reality TV stars? BlueTube gives you direct access to their closets – giving you an intimate look into their life.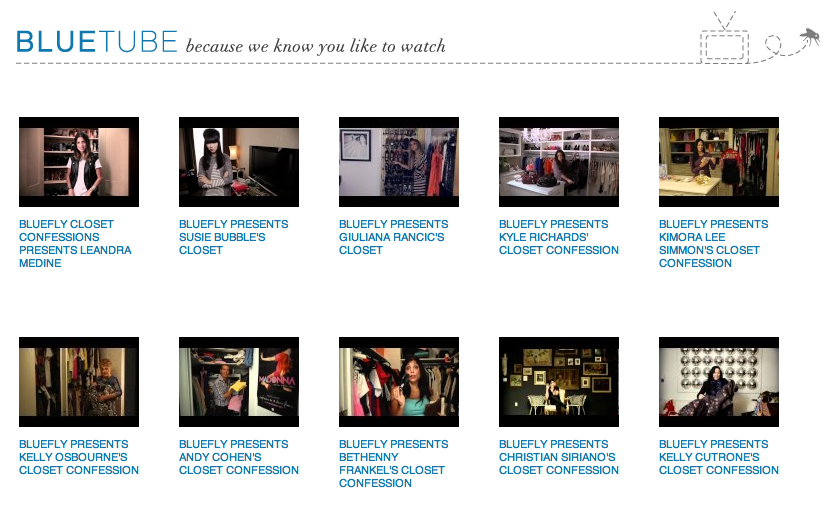 Why it's Exceptional

It's personal and intimate. For fashion enthusiasts the closet is their sanctuary – and getting direct access to trendsetter's closets is like getting invited to the cool kid's house. If you can give your customers an inside look at someone whose opinion they value highly, they will eat it up.
4. Anthropologie
Anthropologie has a beautifully crafted line of products that ranges from clothing to furniture – creating a complete lifestyle brand. It's blog – the MAGAZINE – includes rich articles about artists, locations and products that ooze craftsmanship and beauty.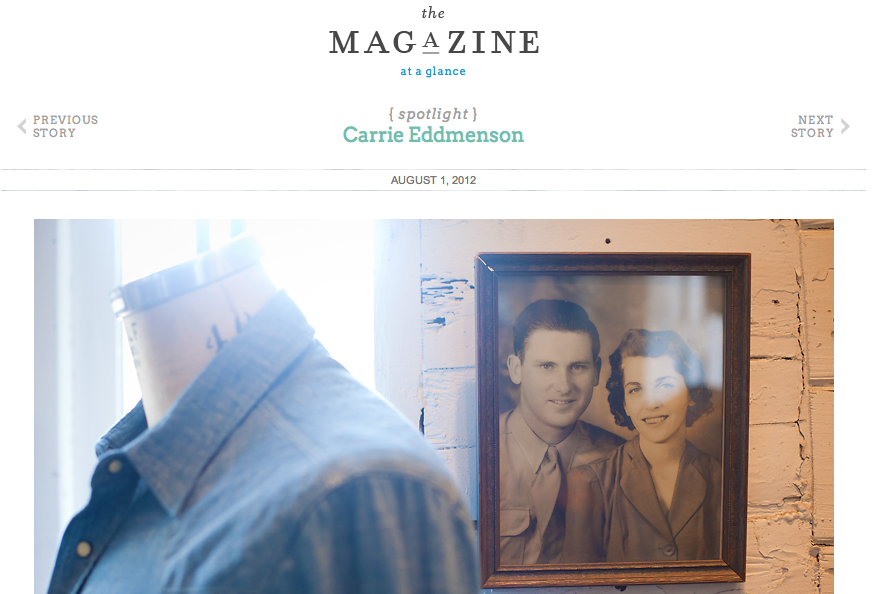 Why It's Exceptional
The articles always contain high quality content about little-known things of interest. Reading Anthropologie's blog makes you feel like you have an inside look into a brand new world you never knew about before. The recent article about the founders of Nashville-based Imogene + Willie give you an in-depth look at the time and care that goes into all of their pieces and makes you fall in love with them. It gives you an appreciation for fine craftsmanship – the type of craftsmanship sold by Anthropologie.
5. Walmart
Last year Walmart recruited a young fashionista named Shauna Miller to start Penny Chic – a blog for fashion-conscious women on a budget. The blog details how you look stylish without spending a ton of cash – even going as far as comparing pricey items to similar – but much cheaper ones.
Why it's Exceptional
They are doing the perfect thing for their brand – and something that is very important for most of their customers – which is showing that their inexpensive clothing items can be fashionable. While not every piece of clothing is from Walmart (which is smart), they all put shoppers into the mindset that cheap is good (and no one is cheaper than Walmart!).
6. DKNY
DKNY is a social media powerhouse. At this past year's Fashion 2.0 Awards they took home the awards for Best Twitter account and Best Blog – both of which are brought to us by the DKNY PR Girl, "Your well-placed source bringing you behind-the-scenes scoop from inside Donna Karan New York & DKNY and my life as a PR girl living in NY." It's basically a reality TV show in text/image form.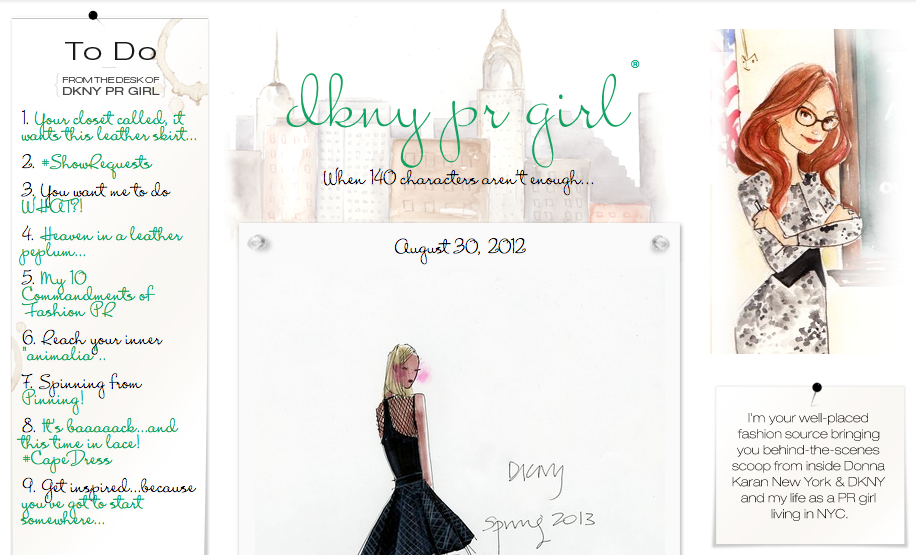 Why it's Exceptional
For anyone with a slight interest in fashion, the brand PR Girl is known as the one who leads the crazy lifestyle of hobnobbing with celebrities and socialites while jet-setting around the world (or something like that). The combined Twitter & Tumblr of the DKNY PR Girl keeps you hooked with constant real-time updates of this lifestyle – to any person interested in the fashion world – this is like having exclusive access to the biggest events in fashion.
It focuses on the New York lifestyle – which DKNY items are a prerequisite for. As we have already learned above, portraying a desirable lifestyle that requires your products is the best way to get customers to buy.
7. The Home Depot
Home Depot has run in-store home renovation classes for years – and recently has moved to put those online with the invention of online video. Their blog – The Apron – is a complete source for anyone looking to hang a picture or build a deck.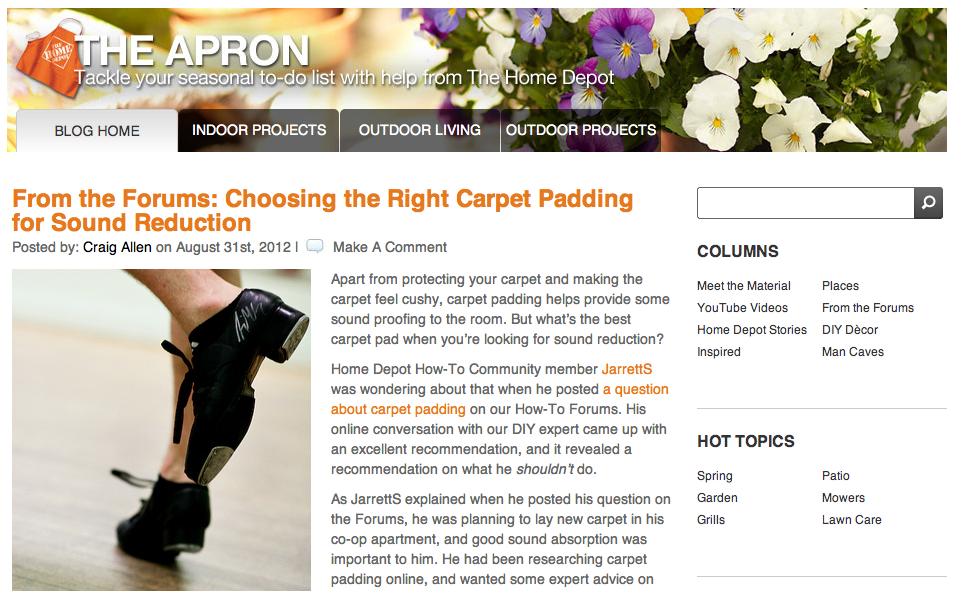 Why it's Exceptional
The Home Depot is making itself the complete online source for home renovation information – which is something that people will always need and have a very hard time finding out for themselves – I personally can barely use a hammer.
By making their website a place where homeowners constantly come for advice – it will ultimately become the place that they purchase their tools and materials to do those renovations.
Still Don't Know how to Start?
Just pick something related to your brand that you're passionate about and start blogging!
Talk about how your products are made, how to use them, and cool ways in which other people are already using them.
The key thing to remember is that a blog should be used to make you a trusted source, not just a place to push your products. Keep this in mind and you'll have a new sales channel in no time.