The tool that makes it easy to run and promote coupons on Facebook Pages, Twitter, websites & mobile devices.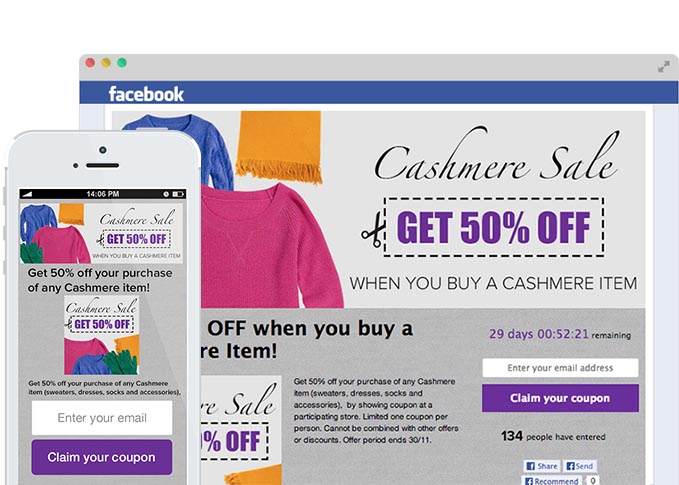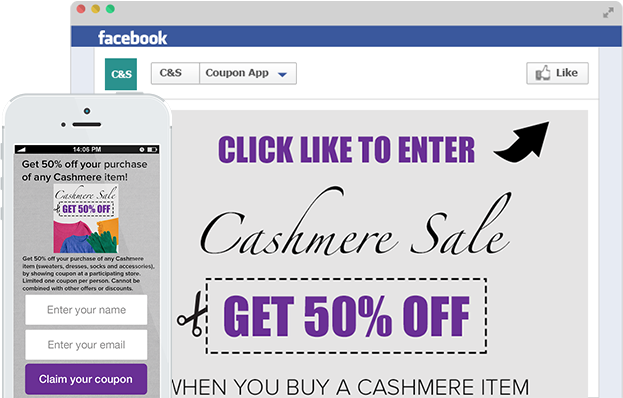 Drive new customers, Fans & Followers on social, websites & mobile devices.
Add custom coupon codes to drive purchases in your ecommerce or local store.


Create custom forms to collect detailed contact information from customers.


Use Like-to-see Fan-Gating to get new Facebook Fans and Twitter Followers.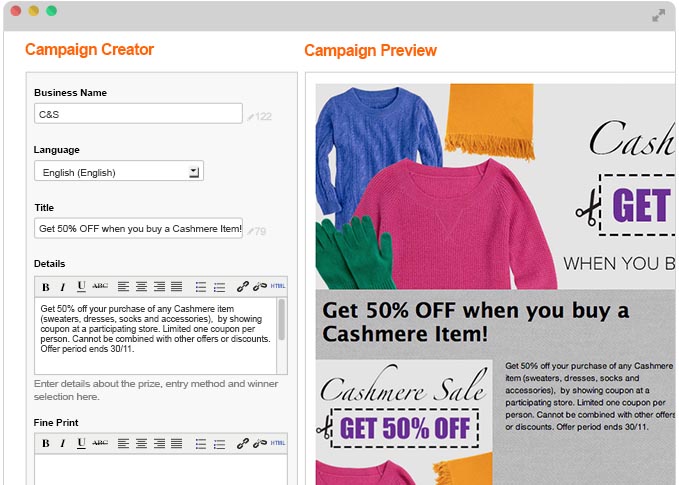 Create a Coupon in minutes using our easy Creation Wizard.
Our Fill-in-the-Blank Creator makes it fast and easy to build your Facebook Coupon.


Send automated emails with coupon codes to follow-up with entrants and turn them into customers.


No coding required. Create your Facebook Coupon in minutes without any programming knowledge.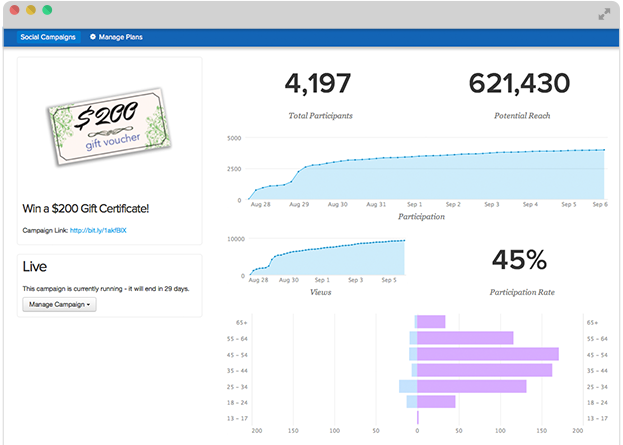 View Performance with Social Reports.
Track your Conversion Rate in real-time to test and optimize your Facebook Coupon page.


Analyze Age, Gender, Location & Interest data to see who your Facebook Coupon is attracting.


Sort and Export your Customer List based on form responses & demographics to your email service or CRM.
Our Facebook Coupon App does everything you need and more.

Runs on Facebook, Twitter & Websites
Run your Coupon in a Tab on your Facebook Page, from your Twitter account or embedded on your website.

Custom Form Fields
Need to collect more info from entrants than email address? Add any fields you like and download in an excel file.

Like-to-See Fan-Gating
You can require that users "Like" your Facebook Page before they can claim your Facebook Coupon.

Optimized for Desktop, Tablet & Mobile
We provide a link to share that directs users to an optimized Facebook Coupon pages for both desktop and mobile users.

Use Custom Coupon Codes
Use coupon codes that work with your shopping cart or POS to make it easy for your customers to buy.

Satisfy Facebook's Policies
Our Facebook Coupon App is built within all requirements in Facebook's Promotions Guidelines.

Wishpond's multi-channel approach has helped us increase engagement more than any other tool we have tried in the past. We finally found a way to engage people on mobile, which is the holy grail for retailers."
Josh Beaty – Director of Communications