How to Run a Facebook Contest: A Step-by-Step Guide
Wishpond has a full suite of Facebook Contest Apps. Learn how to run a Facebook contest here and try one out!
How to Run a Facebook Contest: Introduction
A Facebook Contest is an easy way to engage Facebook likes and convert them into email signups by enticing them with a prize. There are many different types of Facebook Contests from the most basic "random draw" Facebook Sweepstakes to highly involved video contests with a full panel of judges to decide a winner. The first ones are maybe the most important, thus it is important to know how to run a sweepstakes and drive it to success. Overall Each has different benefits and may be more valuable depending on your type of business and campaign goals.
A Facebook Contest is a great way to achieve your goals in social media. One Facebook contest can give you the same return on investment as hundreds of pieces of content saving you time and effort. For small business owners and small marketing teams, this time-savings is invaluable. In this article you will learn how to run a Facebook Contest to achieve specific goals and expand your business to new audiences.
Check out a few Facebook contest ideas before we jump in:
---
How to Run a Facebook Contest: 5-Step Guide
1. Choose a Prize and Entry Method
The prize is the most important piece of your contest puzzle as it's what entices people to enter. It's crucial that you make the prize relevant to your business, in order to encourage future purchases down the road.
A great prize idea for your contest is a gift card for your business. Why? There are two main reasons:
1. A gift card is enticing to all of your potential customers – it's the prize that is the most enticing to the largest group of people. If you give away a certain product or service, you will only get entries from people interested in that specific product. With a gift card, you will attract entries from anyone who is interested in your business and all of the products you sell.
2. It will only attract people who are actually interested in your business. When it comes to contests, you shouldn't always just be looking for the highest number of entries. For example, if you give away an ipad you will get a ton of entries, but those people will only be interested in ipads, not your products. This will make it almost impossible to convert these users into actual sales for your business. Giving away a gift card ensures that entrants have an interest in your products, making it easier to nurture them into paying customers.
Next, decide what users have to do to enter. Do they need to submit a photo? Or just enter their email address? What you ask for at the time of entry depends on your goals. See "5 Strategies for How to Run a Facebook Contest to Achieve Specific Goals" below for help in determining what to ask for. Here are 3 entry methods to consider:
1. Contact Details: This method requires people to enter their email address, name, phone number, etc. to enter. For this method you should ask for the smallest amount of data you need to be able to contact entrants with follow-up emails to convert them into sales.
2. Contact Details + User-generated content: This method allows you to ask users to enter photos, videos and text to enter. It provides you with great user-generated content to use in future marketing, and allows you to run contests in which users vote on their favorite entries to win.
3. Contact Details + Friend Referral: To boost entries you can require people to refer "X" number of friends to the contest for their entry to be valid. This is a great way to boost entries and sharing, expanding the awareness of your campaign.
---
2. Build your Contest Page
The contest entry page needs to be simple and exciting. It must get people excited about the contest and prize, and make it easy to enter. Here are the 5 elements of an entry page for a contest on Facebook:
1. Attention-Grabbing Title: A short title phrased as a call-to-action is the best way to maximize entries. For examples, "Enter to Win a $50 Gift Card from Diamond Candles!" is both simple and informative – it tells visitors what they can do on this page, what the prize is and who is running the contest. It contains the essential information a person needs to feel informed enough to enter the contest.
2. Graphic of Your Prize: An image of your prize is a great way to entice and motivate people to enter. If you're giving away a gift card (recommended), include an image with the gift card value in text and a product that people can buy with that gift card.
3. Entry & Prizing Info: Include a short paragraph with info about the prize, how to enter and any rules or restrictions for your contest. You can easily add a link to an outside rules & restrictions page using our HTML Text Editor, to keep from overcrowding your contest page.
4. Entry Submission Form: An entry form for a Facebook contest consists of an email address signup box and an "Enter Sweepstakes" button. For contests that require entrants to submit photos, videos or text entries, it can include a file upload field or text area. It can also include custom fields like city, age, etc. to capture more personal details.
5. Share Buttons & Facebook Comments: Make it easy for entrants to share your contest with friends by including share buttons directly on the contest page. Wishpond's Facebook Contest Apps include built-in Twitter, Facebook, Google+ and Pinterest share buttons. They also include Facebook Comments to boost interaction on the contest page.
Giveaways are maybe the simplest yet very effective type of contest you can create to bring traffic to your page and capture more leads.
---
3. Promote & Share your Contest
After having learnt how to run a sweepstakes or whatever contest you have created, it's time to promote it. There will be organic growth from entrants sharing with friends, but you will need a few promotional boosts in the beginning to create the initial seed. Here are 5 methods to promote your contest:
1. Send an email blast: Email your customer email lists – they will be the most likely to enter and share with friends to help jump-start your contest.
2. Promote your contest on social networks: Share on Twitter, Pinterest, Google+ and anywhere else you have a social presence. This is a great way to introduce users from other networks to your Facebook Page and get them hooked more into your brand.
3. Add a banner on your website home page: If you're an online business, you get the most traffic to your website, not your social network accounts. Capitalize on this traffic by including a banner on your homepage that links to your contest entry page.
4. Create a Facebook Ad:This is a great way to reach new customers outside of your current community. These ads can be very targeted to reach your demographic.
5. List your Contest on popular contesting websites: There are a ton of contesting websites that allow for free submissions. These are a great way to get access to new communities of customers. Check out our list of 19 websites to post your contest to.
---
4. Monitor your Contest
Depending on your contest goals, you may be interested in tracking entries, shares or new Fans. Here are 3 methods for monitoring metrics of your Facebook contest:
1. Facebook Page Insights: This tool allows you to track the number of shares, likes and comments your contest's posts receive, and the number of new Fans your Page received during the run of your contest.
2. Google Alerts: Set up Google Alerts to monitor mentions of your contest across the entire web.
3. Wishpond Campaign Reporting: Wishpond's Facebook Contest Apps include real-time campaign reporting, which allow you to track views, entries and bounce rates in real-time. This allows you to update your contest in real-time as it's running.
---
5. Post-Contest Follow-up & Promotion
Even after your contest is over, you can use it to promote your Facebook Page further. Here are a few suggestions on how to leverage your contest and keep your entrants engaged with your business:
1. Profile winner(s) on your blog and share on Facebook and other social networks.
2. Create a video showing you choosing the winner to create excitement.
3. Send a follow-up email to contest entrants to convert them into sales.
4. Share your plans for future contests on Facebook to keep your followers hooked.
All of these activities keep the momentum going and will prime followers for future posts from your Facebook Page.
---
Pro Tip: Create a custom cover photo on your Facebook Page promoting your contest, with an arrow pointing down to the Page Tab to enter. See how Qwertee did this below: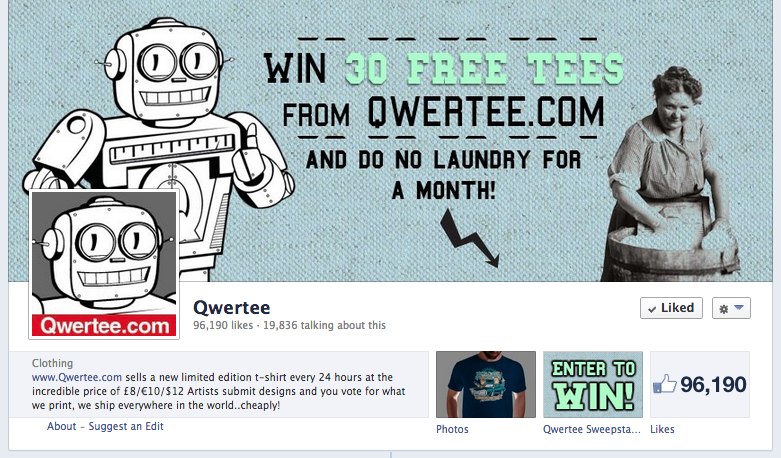 ---
How to run a Facebook Contest using a 3rd Party App (like Wishpond)
3rd party apps like Wishpond's make it easy to create your Facebook Contest. Using our simple fill-in-the-blank campaign builder you can have your contest created in 5 minutes.  Facebook contest apps automate the set up, installation and data storage required for a contest.  Here are the steps you take inside the Wishpond campaign builder to create a Facebook contest:
1. Create your contest page by adding text, images and form fields to our contest template.
2. Install the contest app on your Facebook Page, Twitter account or website, where it will automatically appear when the contest goes live.
3. Once your contest begins, go to the Campaign Report Page to check out campaign stats including views, entries and conversion rate in real-time.
5 Strategies for How to run a Facebook Contest to Achieve Specific Goals
1. How to run a Facebook Contest to get New Emails and Leads
Every person who enters your Facebook contest gives you their email and contact details, making them a new lead to sell to. To maximize new emails and leads you need to maximize entries. You can do this by making the barrier to entry as low as possible. Do this by asking only for an email in order to enter. Minimizing your entry form to just one field will make it as fast and easy as possible to enter, maximizing your entry rate.
---
2. How to Run a Facebook Contest to Grow Brand Awareness
Brand awareness is earned exposure for your brand and products through the sharing by your fans. Brand awareness metrics include how many people were forwarded an email about your brand from their friends, how many people saw a shared message about your brand, and how many people see when their friend Likes your brand's Facebook Page.  You can maximize brand awareness by having more people share about your contest. The more people who share, the more people will be exposed to a post about your contest, maximizing visibility for the contest and your brand.
You can boost sharing by stating that a prize will only be awarded when a certain number of people enter or share about the contest. This will push entrants to keep sharing more and more with their friends to reach the required number of entrants.
---
3. How to Run a Facebook Contest to Get New Fans
Getting new Fans for your Facebook Page is much easier with a Facebook Like Popup embedded on your contest page. A "like" popup is our solution to the recent extinction of like-gating. It involves a simple popup appearing on page when a user arrives at the contest tab of your Facebook Page. The popup politely asks users to "like" your page so that they can stay connected in the future. It's no longer a requirement of entering the contest, but if users are genuinely interested in your brand it will be an easy decision to say yes.
The popup is just one more way to grab those who are already interested in you at the right moment. A perfect example of a "Like" popup can be seen below from Adventure Canada.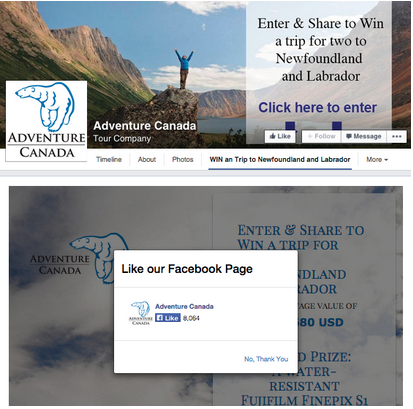 ---
4. How to Run a Facebook Contest to Get User Generated Content
User generated content includes photo, videos and written recommendations by fans that mention your brand or products. It can be great content to use in your marketing as it gives social proof about the benefits of your products and standing of your brand.
Written recommendations are the easiest type of user generated content to obtain from fans. By including a simple text area in your contest's entry form, you make it easy for anybody to write in their content directly. Ask fans to write about how they use their products or why they like your products using an Essay Contest App to get great recommendations for your products and brand.
Photos are a bit harder to obtain than written content, but with smartphones it's easy for any person to take a photo and immediately submit it to enter your contest. The best types of photos include your brand or products – as these can be used in your marketing to show proof of customers using – and loving! – your products and brand.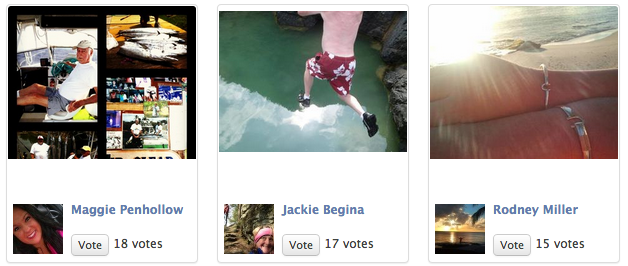 Check out our article 7 Facebook Photo Contest Examples to see how businesses have run photos contests using Wishpond's Photo Contest App.
Videos are the hardest type of content for people to create, as they take a long time and may involve writing a script and getting help from their friends. These are excellent pieces of content to have though, especially if they include testimonials, which can be included on your website to show full proof of your brand's happy customers.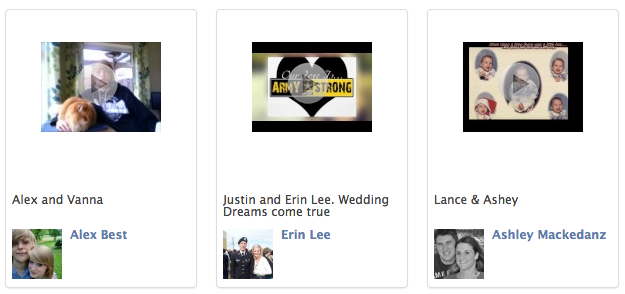 Pro Tip: By including built-in sharing features, you can boost the reach of the content by having the entrants share with friends.
---
5. How to Run a Facebook Contest to Keep Fans Engaged
Fan engagement is important to keep in mind as it shows how much your fans are thinking and talking about your brand. The more engaged they are, the more likely they are to purchase from you in the future. A regular schedule of monthly or bi-weekly contests is an easy way to keep fans engaged and coming back to your Facebook Page and website to see what's happening.
These contests don't require large prizes. Something small like a $25 gift card is a big enough prize to keep fans engaged and coming back for more. Wishpond client Diamond Candles has used this strategy to grow their Facebook fanbase to over 260,000 fans. Learn more about how they've used Facebook contests to their success in our Diamond Candles Case Study.
---
20 Facebook Contest Ideas & Examples
1. Run a photo contest
Get your entrants more engaged with your Facebook contest by running a photo contest instead of a traditional sweepstakes. Running a photo contest is an awesome way to collect user-generated content from fans and new followers for use in your future marketing campaigns. Using a third-party app (like Wishpond) makes it simple for your contest entrants to upload their own photos to a gallery where other can view (and even vote!) on them.
---
2. Run a referral contest
Generate immense social engagement with a referral contest! How does it work? Well, a referral contest incentivizes entrants to share your Facebook contest with their friends and family by giving them additional entries. This massively increases the reach of your contest on social media, helping to ensure your contest's success in the long-term while growing your social following along the way.
---
3. Add a countdown timer
Part of running a successful contest involves creating a high-converting Facebook contest landing page. One simple way to increase the conversion rate on your contest page is to add a countdown timer. This creates urgency on your page by making potential entrants aware of the limited-time nature of your contest offer, vastly increasing the chance that visitors will enter right away instead of waiting to do so.
---
4. Put together a benefits checklist
One clear way to share the prizes and other incentives attached to your Facebook contest is to communicate them through a point-form or checklist format. Many people are skimmers (myself included), meaning they won't be hassled to parse through paragraphs of text to see what's in it for them. Making it easy for any page visitor – regardless of their viewing habits – to see what makes your contest great is key to running a successful one.
---
5. Social share incentives
Between our own marketing initiatives and the marketing campaigns we run for our fully-managed clients, we run a ton of contests. One of the most impactful contest strategies we've found is to add a social share incentive. What does this mean? Basically, it's a popup that appears once a participant has entered your contest that prompts them to like your business and share the contest on their social media platforms.
---
6. Coupon for entering
Sometimes, your prize just isn't a big enough entry incentive. Capture a few more leads that would otherwise bounce by adding a coupon incentive to your contest. Basically, you'll want to include some copy on your Facebook contest page that tells people they'll get an X% discount, just for entering. It's a simple sales promotion tied to a lead generation effort, and can help you boost the number of sales you get from these leads in the first place, even before nurturing.
---
7. Pin your contest to your Facebook page
Your Facebook page is a prime place to direct engaged traffic to your contest page. Besides posting consistent updates paired with CTAs to get people to click into your contest, there's one more thing you can do to optimize engagement from your business' Facebook page. Pin one of your contest announcement posts to the top of your page – this ensures anybody who visits your page will see this post first, maximizing their chances of clicking through to your contest.
---
8. Run Facebook Ads
There's no easy way to put it: sometimes you need to pay to play. Running Facebook and Instagram Ads is one of the most effective ways to drive interested – and most importantly, new – traffic to your contest page, meaning you won't just be generating leads from the fans you already have. Because Facebook's Ads platform has impressive targeting tools, you'll be able to reach the people who have the greatest chance of converting on your contest page and becoming leads.
---
9. Partner with another brand
One simple way to massively boost the reach of your campaign is to link up with another brand in your industry to run a partnered Facebook contest. This allows you to market to both of your existing email lists and social followers, as well as split up (or double up on) the cost of ads. Choose a business in your industry that's not a competitor – you want to pick a complementary business with products that pair well with your own, so you can market your joint contest's prize as one, cohesive prize bundle.
---
10. Run a themed contest
Over the years, we've found contests perform significantly better when they're attached to a theme of some sort, whether that's a holiday like Christmas or some other event like Mother's Day. This allows you to fit your copy and the images you use to a specific theme, making your contest feel more cohesive and helping you take advantage of top-of-mind awareness from your potential entrants.
---
11. Prize idea: Gift card
If you're having trouble thinking of an effective prize idea, you may want to consider a gift card, for a few reasons. First, it's simple and you can make the value anything you'd like. Next, giving away a gift card is an awesome way to weed out potential entrants who might not be all that interested in your business and products. One downside: it can be tough to make your gift card prize seem interesting if you're trying to promote it. Circumvent this shortcoming by using pictures of your products to promote your contest.
---
12. Update social media assets
To maximize the number of people who visit your contest page, you'll want to update all of your social media assets on various platforms to promote it. Change your Twitter banner image, your Facebook cover photo, and your Instagram bio to direct social followers to your contest page. Make sure you add a CTA in the image as well as a link (in your Instagram bio, a pinned Tweet, and Facebook photo description) to make it as easy as possible for people to enter.
---
13. Add a Like popup
Unfortunately, Facebook no longer allows you to require entrants to Like your brand on Facebook before entering your Facebook contest. However, you can still add a normal Like popup to your Facebook contest page if it's hosted in a Facebook tab. Because you already know people visiting your contest are somewhat interested in your business, there's a pretty decent chance they'll be fine with Liking your page before they enter your Facebook contest.
---
14. Partner with an influencer
Similar to partnering with another brand, partnering with an influencer can give you a big advantage and drastically boost your contest's success. Influencers are a big part of social media, and they're important to marketing because their followers religiously pay attention to the products they promote. Find an influential figure in your industry, and pair up with them to create a partnered giveaway that you can promote to your market as well as theirs, maximizing your Facebook contest success.
---
15. "Tag a friend" contests
Finally, another type of contest you can run is a "tag a friend" contest. Though you won't be able to generate lead information from a contest that you're simply hosting in a Facebook post on your timeline, requiring users to tag their friends in a contest post to enter helps quickly spread the word about your contest to other people who will likely be interested in your business, too. These contests are incredibly effective, and you can follow them up with a simple coupon promotion that you post on your timeline.