How to Boost Your Number of Followers on Instagram
---
40% of people respond better to visual information than plain text. With the rise of social media over the past decade, visual communication has become a dominant force. With Instagram, video sharing apps, and visual storytelling, the trend towards visual content has been impossible to ignore.
Visual content allows you to quickly convey your message and can actually be processed by the brain 60,000 times faster than text. This is likely why instant photo sharing has become increasingly popular. Instagram, as of 2014, had more than 300 million monthly users, with new accounts added around the world daily.
Over the past few years, there has been so much discussion surrounding engagement in social media strategies and how you can get followers interacting with your content to strengthen your brand reputation. No matter what type of business you have, whether it be auto shop or a bakery, you likely have some form of visual content that you could be sharing via Instagram. That is why it is now essential for you to understand how to get more followers on Instagram.
Of course like all social media platforms, becoming successful on your Instagram account is not just a walk in the park. To create a strong visual identity and attract followers to your Instagram account you need to dedicate time and energy as you would to Facebook or Twitter. A lackluster, half-ass effort isn't going to get your images circling the platform anytime soon. If you're going to create an account for your brand give it the love it deserves so that it improves your brand image, rather than destroying it.
Here is some advice for new Instagrammers on how to build a strong presence on the photo platform and learn how to get more followers on Instagram.
Interact With Your Instagram Followers
---
Interacting with other Instagram users by following, commenting and liking photos will bring attention to your account and allow you to gain more followers. Follow people who take photos that you think match your brand. Don't just follow back any person who follows your account, but choose them carefully.
If you don't know who to follow, you can always find them under the "Search and Explore" tab. This tab shows you photos and videos liked by people whose posts you have liked and posts that have been liked by a lot of people in the Instagram community. Liking or commenting on these types of photos that are trending on the platform give you the chance to get more brand exposure.
You can also comment and like selected followers' photos. People are always happy when someone likes their photo or comments on one of their posts. Again, avoid doing this too often and do not like just every photo they take. The point of commenting and liking photos is not only to engage with followers, it's also a way to make people aware of your brand. Mention people using the @ such as the person on the picture or the one who has taken the picture. This is also a good way to show your appreciation to loyal followers.
Use Popular and Specific Instagram Hashtags
---
Use the hashtag function to start conversations about different subjects significant to your brand and indicate the theme of the photo – but don't over do it. Use just one or two hashtags for one picture. If you use too many hashtags, you risk losing followers as it takes up too much space in their news feed and seems too promotional. Look through hashtags your followers use on Instagram, if there are some relevant to your brand try to use them also. At the moment popular hashtags could be #summer #spring and so on.
You can also geotag your photos in order to get them found more easily. Geotagging involves adding a geographical location to your pictures. These can be searched by users or discovered when they go to use the same one. For example if you have stores in multiple cities you could tag your city, your exact location or the district you are located in.
Many brands also do this to grab the attention of users looking for similar locations or located in those locations. Burton has done this (below left) by tagging "Snow park Laax" which is relevant to their target audience, making their post more likely to be seen. On the right you can see all of the other users who have geo-tagged the same location.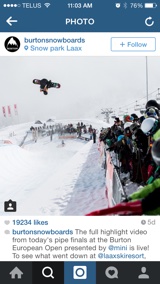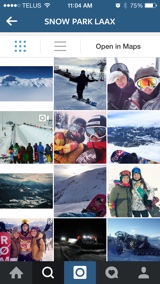 Plan Your Instagram Content
---
Once you've gained followers, it's crucial you don't let them go. You need to plan and manage your content, listen to your users, and engage with them in order to keep them entertained. Plan your content ahead, you should also post behind the scenese photos from your business as they seem more personal and spur of the moment. Find the right posting rhythm and post regularly but not too often, but rather as a consistent pattern.
Also try and monitor which photos are the most popular on Instagram in order to know what people are interested in at the moment and considering what makes them so popular. Post similar photos like those that have generated many likes and comments, such as those revolving around an upcoming holiday or special event. You might also want to consider an Instagram Contest to increase your visibility and grow your account's exposure.
Written by Nick Steeves.

---
Related Articles