Landing Pages for Travel Agencies, Hotels, Resorts and Tour Operators
A Free Guide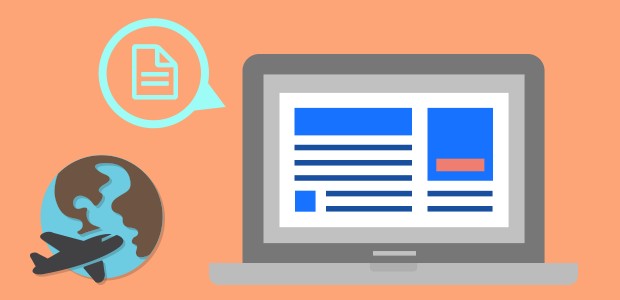 1. What is a landing page?
A landing page is a page within your website that internet traffic "lands" on when they arrive from any source.
They could come from your Facebook or Google Ads, links shared on social media, search engines, word-of-mouth marketing from one of your loyal customers, or many other sources.
2. Why is it important?
Your landing page is the first impression of your business.
Not to mention that optimizing your landing page can be the difference between financial success and failure.
Wait? Financial failure? How?
Consider this:
Your landing page sees internet traffic of a couple thousand a month (let's say 2500).
Currently, you're lucky if 10% of those visitors convert to a reservation for a massage or treatment.
If their average purchase value is $500 dollars for your business, you're seeing monthly revenue of $31,250 from your page.
Let's say you implement one of the strategies I give you below. Your page's conversion rates increase by 25% (of 10%), so your new conversion rate is 12.5%.
This conversion rate change increases your monthly revenue to $39,062.50. Over the course of the year this is almost a $100,000 increase.
So how about we get optimizing?
In this guide I'll give you the five most important things that your landing page has to have, and give you real-world examples of spas that are doing it right (and some that really aren't!).
Let's get started!
A Unique Selling Proposition (USP) or Value Proposition
As you know, when someone wants to book a spa they first do a search online to see different travel packages. They bounce from one website to another, looking for that one certain thing that sets your package apart.
This is why your USP is so important. It's that certain thing. That part of your business, your spa, that is unique to you.
It could be a sale you're currently running, a special that you offer, or an award that you've recently won.
For example:

Use your USP as your headline. Along with your landing page image, it should be the first thing that your web traffic sees. Your USP and image are what grip your visitor and encourage them to read on.
You have about a second to convince your page visitor that your website is worth looking into. Unless your headline is intriguing, shows value, or promotes something they can't get anywhere else you run the risk of that visitor bouncing out and heading to one of your competitors.
What I suggest for you:
"Kids stay free. Parents are free to relax"
"48-hour All-Inclusive sale! Save up to 50% off!"
"Stay in award-winning Caribbean resort comfort"
"Free snorkel excursion with every booking!"
An Image
Your landing page should evoke comfort and relaxation, and a certain amount of desire or envy. In order to get these emotions flowing, you have to choose a picture that works for you. Put time and energy into this image, as it will communicate more to your site traffic than any single word, sentence, or even price.

What I suggest for you:
Use warm colors if you want to evoke comfort: red, orange and pink
Use cool colors if you want to evoke relaxation and cleanliness: pale blue, white and navy
Feature people in your images: This will make your vacation pac more relatable, personable and likeable (plus, this evokes that slight amount of envy you can aim for)
Focus your image on one of your USPs: If you're a hotel, feature the comfort of your rooms. If you're an adventure tour resort, focus on the adrenaline rush of your tours. Hot-springs? You know what to do.
Try a revolving album of 3-5 images: Feature different parts of what your reort has to offer in each image.
A Clear List of Benefits or Further Links
An image and a USP alone aren't likely to make your case for a conversion. You need to give people a little more information, or a couple more links so they can access exactly what they want from your landing page.
If you're focusing your landing page on a single call-to-action (which I recommend), you should be including a few more USPs in list form. Avoid paragraphs where possible, and make your benefit list succinct and to the point.
If your landing page is your primary homepage, you'll want to include links to your group bookings, special treatments, or spa products (see below). If this is the case I recommend you separate these into large, individual buttons that are essentially mini-landing pages of their own.
Here's an example of what I'm talking about:

Be sure you put your benefits in list form. Use a single bolded phrase or short sentence to grab the eye and encourage skim-readers with a brief description after.
A Trust Symbol, Customer Testimonial or Award
Let's be honest here, you aren't exactly the most trustworthy source when it comes to how amazing your spa is. You have a certain vested interest that makes your web traffic somewhat skeptical of everything you say (even if they're not 100% conscious of it).
This is why an outside source – an outside affirmation – is so essential for your landing page.
As you well know, reviews and ratings have become a kind of currency in the online world. No one buys a T-shirt online unless it has at least a four star rating. And you're no different.
Here's an example of what I'm talking about: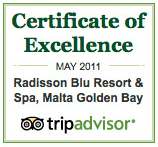 What I suggest for you:
Many resorts have a "comment book" on their front desk or with the concierge. Use the most positive comments in this book for your landing page.
Incentivize your review system, offering 10%-off a visitor's next holiday if they'll give a review and take a picture
Pictures are important: attaching a customer testimonial to a face has a huge influence on how believable that testimonial is.
Use an award you've won as your USP (or part of a three-part rotating album of USPs and images)
If you have any kind of certification of symbol from an authority include it in your landing page (perhaps next to an image of the amenity you're certified for)
A Call-To-Action (CTA)
The point of your landing page should be to encourage a single action. For travel packages, this action will either be to make a reservation or view rates.
Your benefit list, USP, images and customer testimonials or endorsements will have sold your site traffic on your spa, but unless your CTA is clear, eye-catching and obvious they still might bounce.
Here's a (bad) example of what I'm talking about: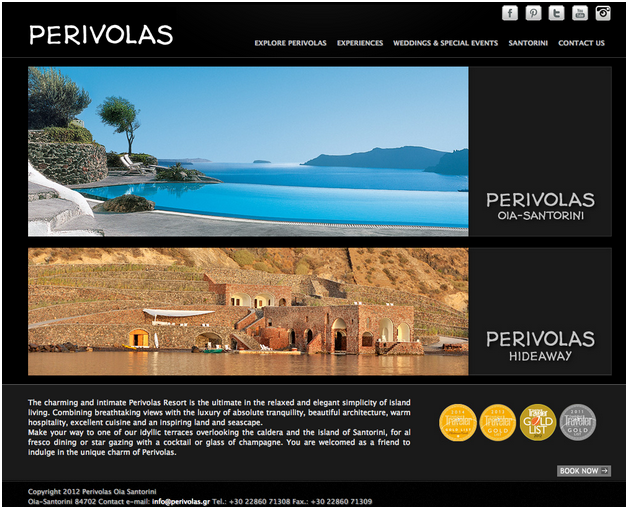 This landing page's primary CTA ("Book Now") is hidden at the bottom of the page. It's small and barely contrasts with the background color, making it very difficult to find. The gold-colored awards above it stand out far more, and may even hinder a user's ability to find the CTA, as they will draw the user's attention.
What I suggest for you:
Encapsulate your call-to-action in a larger and more appealing button
Contrast the color of your CTA button with the rest of your landing page
Avoid cluttering your CTA with other nearby links or text
Use simple and persuasive language
3 Examples of Travel Landing Pages (built with the Wishpond Landing Page Tool)
Free Guide Landing Page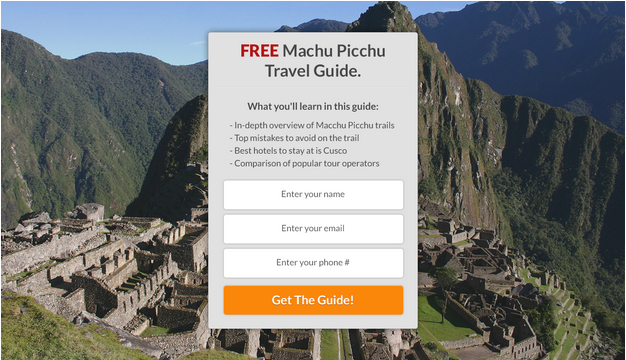 This page exemplifies the USP and image combination. The two are clearly the most obvious variables on the page, which is perfect for a free download landing page.
When giving away a free guide, don't make your landing page too complicated. Just give a taste of what's inside to whet visitors interests.
Make the value of engagement clear with a large and central USP (Bonus points for making value statement words like "free" stand out with a different font color).
Include an image that gets the person thinking about your destination or tour.
Make the CTA, in this case the orange button, as attention-grabbing as possible.
Using a bright color that contrasts with the background is always best.
Focus the CTA's language on value: use "get" instead of "sign up here" to make it about what the person is getting, not the action they're taking.
And that's it! Sometimes the simplest pages can have the highest conversions. Don't get in your own way with distractions or too much text.
Zipline Tour Landing Page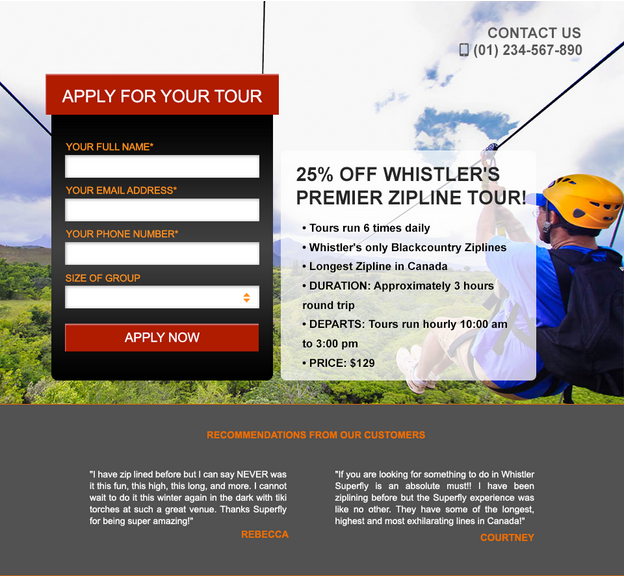 What makes this landing page work
A landing page that would be within your website itself, the subscription page is all about communicating value. Committing to weekly (or monthly) communication is a bit more of an ask than the coupon page above. Value is not so obvious as it is with a "25%" off coupon, so you need to drill it home with a benefit list.
For the sake of illustration, we've included only four benefits of engagement, but we recommend you have at least six.
Subscribing to your newsletter allows you to communicate again and again with a lead. Remember, converting a repeat customer to a sale is between 300 and 700% cheaper than converting a customer for the first time.
Booking Landing Page: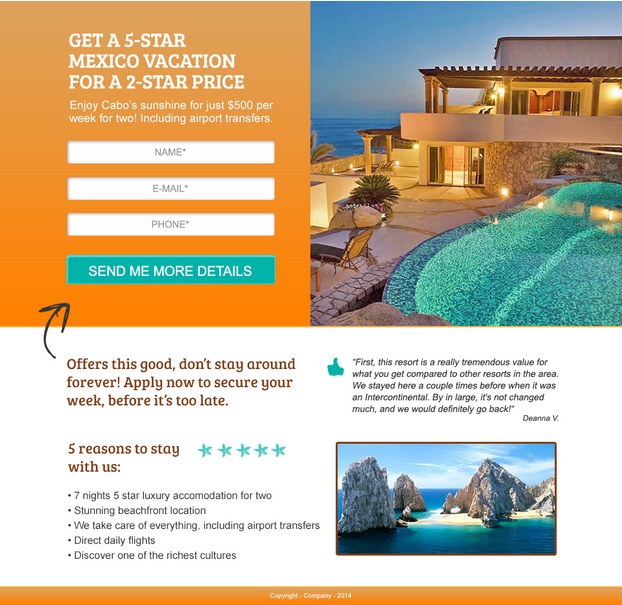 What makes this landing page work
An image that grabs the eye and communicates an emotion or feeling
A bold USP that sets you apart from your competitors (both "award winning" and "stone massage" – which you can't get with every spa)
A bullet-pointed benefit list of 3-4 benefits – communicating further value to engagement, should the lead need it
A customer testimonial, increasing the trust that the page's traffic has in your spa
A clear, contrasting CTA above the fold
These five variables work together to convert a lead.
Written by James Scherer