Facebook Contests for Mobile
---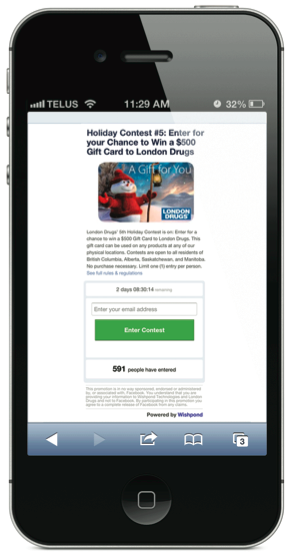 Nearly 40% of Facebook users access Facebook on their mobile phones
If Facebook contests are a part of your marketing strategy, make sure the contests themselves are optimized for mobile! HoweverFacebook does not support 3rd party applications on any of its mobile environments – including their mobile apps and mobile website. So how do you optimize your contest for mobile users?
Wishpond's Solution
Our apps come with a unique redirect link to promote your contest on mobile! If you are a member of Wishpond, a redirect link will be included when you send out a contest promo, which can be used as a call-to-action. When a user clicks on it, our system checks to see if they are on a mobile/tablet device or a desktop computer.
If the user is on a desktop they will be directed to the contest on your Facebook Page.
If the user is on a mobile/tablet device they will directed to a mobile webpage (hosted by Wishpond) where users can enter and engage with your contest, just as if they were on Facebook.
Quick Tip
: Need to get this redirect link quickly? Simply go to your contest entry page and click the Tweet button at the bottom of the entry panel. A Twitter pop-up will appear with a default tweet that includes this link. You can simply copy that link and paste it in your next promo. Reach 40% of your potential clients now! Looking for a way to promote your business online? Why not take a look at
Wishpond's social media services
?
---
Related Articles