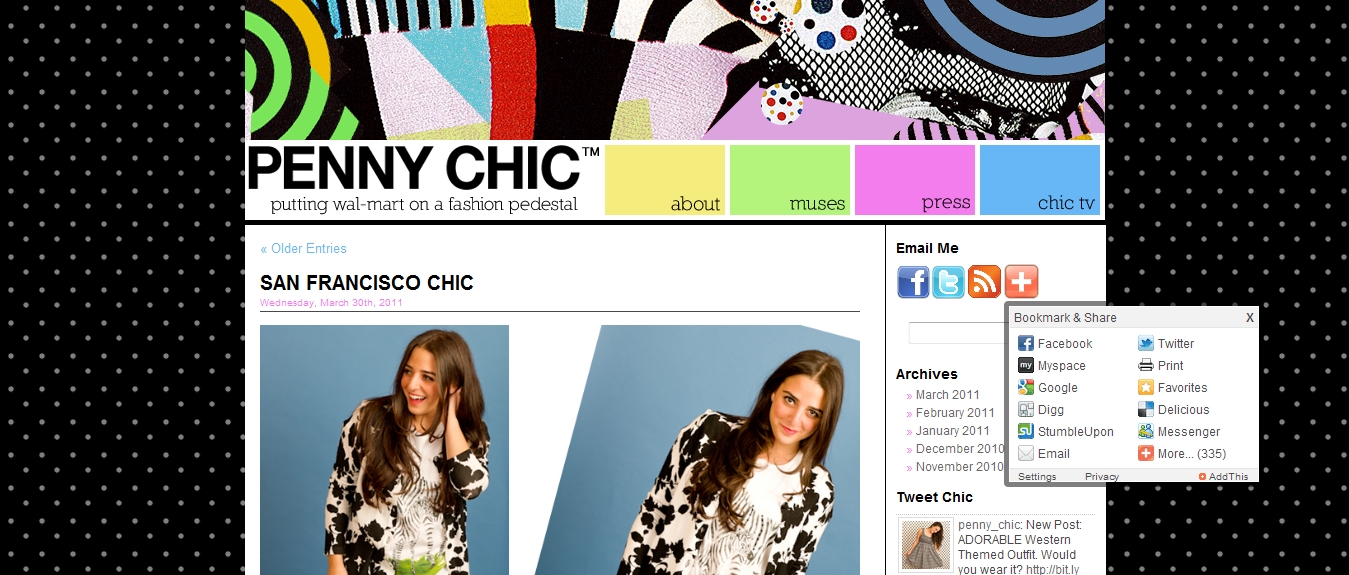 Shauna Miller's fashion blog, Penny Chic, is the doing the impossible: Making Wal-Mart a purveyor of fashion. And she's doing it well – using her friends as models, a conversational tone, creating amazing, highly descriptive looks, and standing behind the clothes – making her, and her blog as famous as the company she's writing about.
Why it Works
1) The models featured in her fashion spreads are her real friends:
It creates an image for Wal-Mart as the fashion destination for the real woman. One who cannot afford to spend $5,000 on an outfit, but who still wants to look good. As
Katie Baker
, a blogger on Refinery 29 says, they are 'real-life gorgeous', possessing a body-type that will no longer make a woman feel self-conscious when she looks at them. The looks are depicted for real-life situations like 'Weekend Chic' and 'Social Worker Chic', which place the clothes in day to day situations, instead of just on the runway.
2) The tone of her posts is conversational and personal:
It makes you feel like you're listening to a friend on the phone, talking about what they just bought at the store. She even gives accounts of how the shoot went, and what conspired between her and her friends as it progressed:
"When Hilary first caught sight of me coming towards her with this skirt in my hand she said, "Absolutely not!" and by the end, after much convincing, she proudly claimed she would wear the whole ensemble to work."
3) The looks she creates are beautiful and include all the necessary purchase information:
Shauna doesn't skimp on the details. Every picture includes little post-its with the names and prices of the pieces used in the outfit. Not only does she make you want to buy the outfit, but she tells you how you can do so – either in-store or on walmart.com. These are great calls to action, as customers can purchase the entire look by visiting the store or shopping online.
4) She stands behind the clothes:
In a recent
interview
with refinery29, she held strong in defending the clothes as a way for fashionistas on a budget to look chic. She stated that if the average woman wants to look great while maintaining their 'responsibility to provide food and shelter for their families', Wal-Mart is the best place to achieve that. The enthusiasm she uses in her posts to describe the clothes is also emblematic of how much she enjoys what she's pushing. Showing such strength and enthusiasm rubs off on readers and will empower them to rock their Wal-Mart fashions with the same feelings.
Bottom Line for Local Business
If Wal-Mart can make itself look like a fashion destination through one blog, a local retailer can do it to. The tactics used by Shauna can be replicated by any retailer for any product: A hardware store could create posts showing the owner in action, with the tools he/she sells and provide tips on how best to use them. Using actual products in real-life situations, is the best way to educate your target audience as to how they can use them, and entice them to make a purchase. For a first-hand look go to
http://pennychic.com/