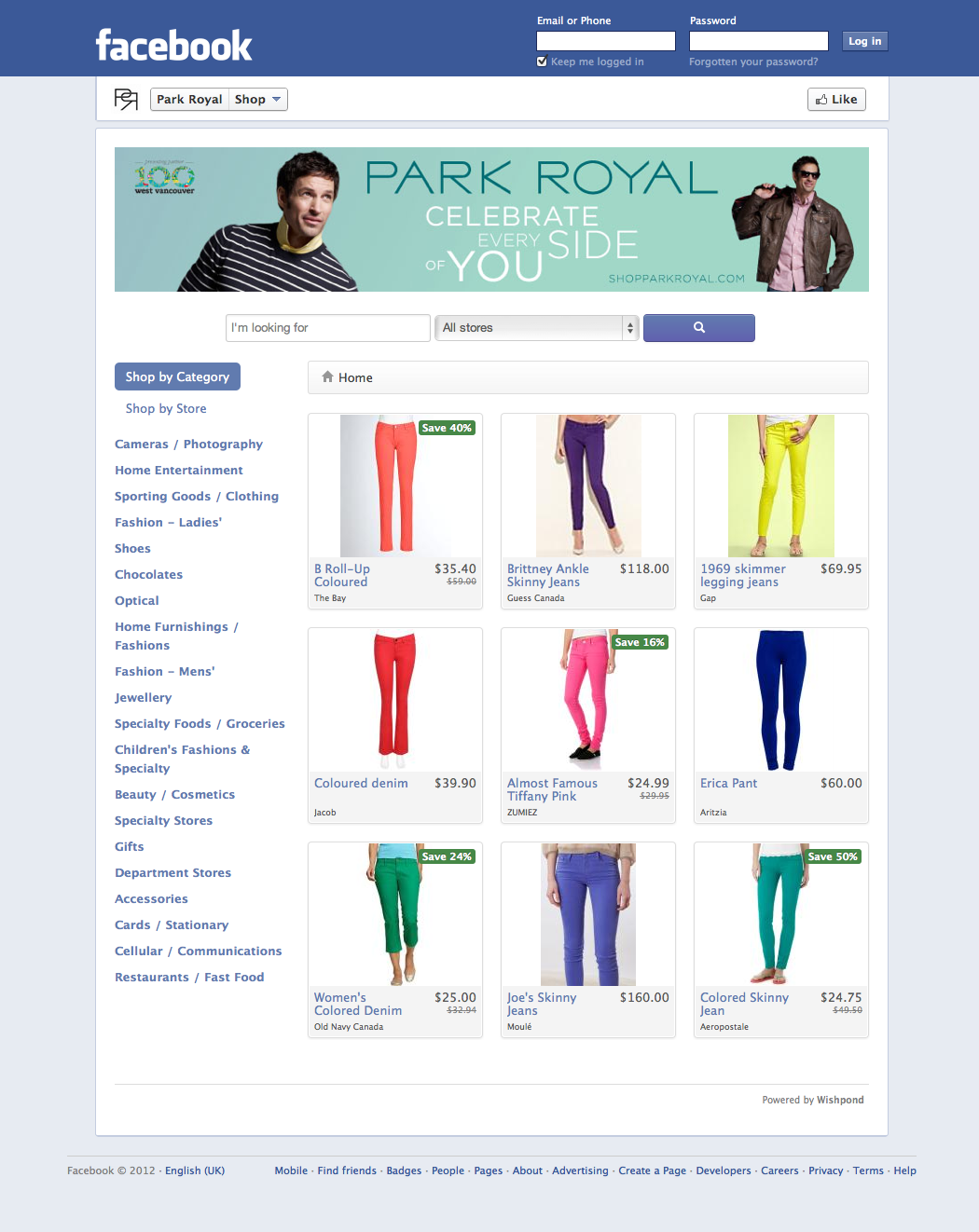 Curious shoppers are now able to visit the Park Royal Page on Facebook (
http://www.facebook.com/Parkroyal
), and browse, search and share products from nearly all of Park Royal's 280 retailers. All this without leaving the world's most popular social network. "We are always looking to make use of technology to enhance the shopping experience" said Nancy Small, Park Royal's Director of Marketing & Sustainability, "Facebook is where people discover new things, and make and discuss plans, so it makes sense to give our shoppers the best possible experience within that environment." The Park Royal Facebook experience is made possible with the help of Vancouver-based technology company Wishpond, whose unique Mall360 product is the technology behind the Facebook shopping application. Wishpond Mall360 aggregates product information from the retailers in a mall or shopping center and allows that mall or shopping center to publish that data as a browsable, searchable, shareable directory on Facebook, a mobile application, or website. It also integrates other social networking tools such as Twitter, Pinterest, and Google+ to allow shoppers to share their favourite items with friends, no matter where their friends reside online. "Our background is in local product search, helping connect shoppers with local retailers. Working with Park Royal to create their Facebook mall experience has been a great way for us to do just that" said Ali Tajsekandar, CEO of Wishpond. "Even with a very quiet launch we have seen thousands of visitors check out the Park Royal in-Facebook experience, searching for the products they love, sharing products with friends, and just plain old 'window shopping'", continued Tajsekandar. Park Royal recently made use of Mall360 to create and promote collections of their hottest spring fashion items from across all their retailers. Small says this promotion saw significant increases in visits to and engagement with the Park Royal Facebook Page. "This is the perfect way for us to highlight related products, and great offers from all of our retailers together in one place. The feedback from our shoppers so far has been extremely positive. It is great for the retailers, great for customers, and great for us" concluded Small. Park Royal is the first local client to have deployed the technology, and has been working with Wishpond since late 2011 to enhance and perfect the product. Wishpond is working with several other major malls and shopping centers to deploy the Mall360 solution, and intends to announce several of these in the coming months. The Park Royal in-Facebook mall experience can be seen at:
https://www.facebook.com/Parkroyal/app_247031045331980
For more information about Wishpond's Mall360 product visit
http://wishpond.com/mall/
About Wishpond
Wishpond's mission is to create a cohesive, exciting, engaging shopping experience across all existing channels, and allow retailers to more effectively reach their target customers. The Vancouver, BC based company is the leader in multi-channel commerce solutions for retailers.
About Park Royal
Park Royal and The Village at Park Royal features 1.2 million square feet of high quality retail. Situated at the foot of the landmark Lions Gate Bridge and minutes from downtown Vancouver, Park Royal is at the forefront of fashion and retail in the Lower Mainland.
Contacts
Duncan Blair Director of Marketing Wishpond +1-604-561-5944 duncan@wishpond.com Nancy Small Director of Marketing & Sustainability Park Royal +1-604-923-4714 nsmall@parkroyal.ca