80% of Pinterest Pins are Re-Pins – That is a #@$#-load of virality for every Pin!
Want to know how you can use this virality to increase your sales? Or even just start getting this level of virality for your Pins? Don't wait – let's start now!
---
The Basics
Pinterest may not be right for every brand. Angie Pascale suggests that if your brand has "stunning imagery and develops unique products, Pinterest might be a good fit for you." She has a list of 13 verticals that can leverage Pinterest.
Apparel—men's, women's and children's
Food/beverages, especially recipe-driven
Architecture
Interior design
Wedding themed
Technology
Sports
Health care
Personal care
Home improvement/DIY accessories
Pets
Kids products/toys
Travel
A recent
study by Shopify
revealed some interesting stats about how Pinterest drives online sales, which is captured in their infographic:
Soooo Pinterest helps drive sales, I already knew that…. give me something ACTIONABLE!! Well, here are some basic goals retailers know they can achieve on Pinterest:
Promote products
Get more traffic to your website
Get Pinterest followers
And here are some goals most retailers DON'T KNOW they can achieve:
Get feedback on upcoming product lines
Boost your brand reach on other social networks
Get social recommendations
Run Contests to get new leads
Analyze your customer's shopping behaviour
GET NEW SALES
---
So how can exactly can I achieve these goals and increase my sales?
1. Add the Pin It button to your website 2. Promote more than your products 3. Create boards for different styles 4. Optimize your product pins 5. Run a Contest 6. Monitor, Analyze & Re-target 7. Add your Pinboards to your Facebook Page
---
1. Add the Pin it Button to your Website (Duh!)
Adding a Pinterest button next to every product and content page is now a must. It makes pinning your products a simple click – as opposed to manually adding the link from your website onto Pinterest, etc. that most shoppers will not have the patience for. Pinterest has several choices available for the Pin it button – I recommend using one that has a counter. If a shopper sees that a number of people have Pinned it (read recommended it) they will be much more likely to trust that it's a great product and purchase it. Here is a great blog on how to add the Pinterest button to your website – http://techably.com/add-pinterest-button-to-website/5310/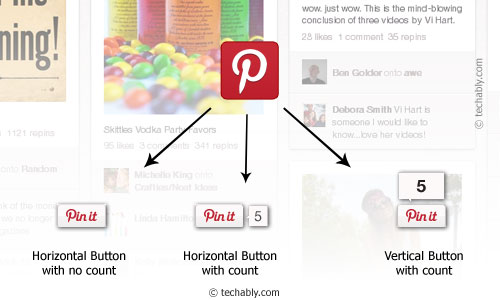 ---
2. Promote more than just products
The temptation for any business is to post pins only for products you sell. Giselle Gonzalez is a promoter for Cakestyle, a company that makes wardrobe suggestions for women, and says one key is to post interesting news tidbits, tips, and products from other companies. She says "Pinterest users are savvy in spotting a board that is too self-serving and only posts product photos."
Crowdsourcing can also be very effective for brands. Ask fans of your brand to pin pictures of themselves with their favorite product of yours and tag you, then you can re-pin those photos onto a VIP board. "It'll give a shout-out to these fans and show potential customers that your current users really like using your product," says Lauren Drell, the Campaigns Editor at Mashable.
Etsy and west elm are playing it right.
---
3. Create boards for different styles
Everyone is looking for something that fits their style. If you create a dedicated pinboard that you update frequently with items of the same style shoppers who like that style will come to see it every time you add something new. It's OK if that style pinboard doesn't have any of your products in it. Shoppers who browse your pinboards will come to trust your opinion and will look at the things you sell personally.  Even if they aren't interested in your products they'll be more inclined to mention you to a friend to check you out because you're someone they trust.
---
4. Optimize your product pins
Just like on your website, it's important to structure your products in a way that makes them super-easy to find and understand AS FAST AS POSSIBLE!! 1. Create boards of your products in the same categories as on your website. Yes I know it's boring but it will make it so much easier for viewers to navigate through your products and find what they're looking for. 2. Include a price tag on your product posts. As shown in the infographic above, Pinterest pins with prices get 36% more likes than those without. How do you include a price tag on your product in Pinterest? In the description of a pin, include a dollar sign followed by the products price, such as $40 or $2.99. When a price has been added to a pin's description, Pinterest displays a price tag ribbon in the pin's top-left corner.
---
5. Run a contest!
There are many different types of contests you can run on Pinterest. Your goal(s) can help you decide on the contest type. Here are a few examples of contest, each fulfilling a different goal:
Add more followers to your Pinterest profile - All your contests should require participants to follow you on Pinterest
Get feedback on your upcoming product line or project, create a board with your proposed products/project - Ask participants to leave a comment on which one is their favorite and why
Get more traffic to your website - Ask participants to create a board (name it with your brand name) and pin their top 10 favorite items from your website
Get social recommendations, get new customers and increase your sales - Create a board that allows contributors and ask your customers to upload a photo of themselves using your products or upload a video testimonial. This establishes instant credibility, which is the key in getting new customers
To increase your brand awareness - Ask participants to create a board with pins that best represent your company. This can include items/products from your own website or inspiration from other sites
Whatever your goals are, make sure that you and your team are fully aware of them before you start your contest. Having clear goals will help you make the most out of your next contest on Pinterest.
***Keep in mind: Your contest can have more than one goal, but pick no more than two or three goals per contest to keep things less confusing for your participants.
Take a look below for some examples of Pinterest competitions:
AMC Theatres
The second-largest movie theater chain in North America, AMC Theatres, is generating a lot of engagement through Pinterest contests. AMC has created an entire pinboard, AMC Giveaways, dedicated to contests and giveaways. The visually attractive pins direct users to appropriate contest landing pages.
Landing pages contain contest details and an entry form. The entry form is best utilized by AMC collecting basic customer information and customer preferences.
HuHot HuHot launched a Pin It to Win It contest during the month of June, 2012. The participants had to create a HuHot recipe and pin it on one of their own pinboards in order to enter the contest. This was perfect for their brand as it got entrants thinking of cool things they can make and it got them sharing their great ideas with their friends.
---
6. Monitor, Analyze & Re-target
Pinerly
allows you to track the click-throughs, likes and re-pins of your pins to see the ROI of each one. It's quite basic, but until Pinterest releases its API its as in-depth as it will get. There is one cool trick you can do though: Want to find out who's been pinning your stuff? Go to:http://pinterest.com/source/yoursitehere. Look at your site's page often to discover which posts and images are resonating with which Pinterest users.
---
7. Add your Pinboards to your Facebook Page
As popular as Pinterest now is, it's still new – much newer than Facebook. Many of your customers already Like you on Facebook – so this is a perfect place to introduce them to your Pinterest boards. Justin Palmer, the online awareness director at
Sevenly
, a custom T-Shirt shop, says to get the most number of eyeballs his company uses Tumblr and Facebook to point people to Pinterest. Why get them interested in another social network? Pinterest is a great place to promote your products in ways that you can't on your own website The best way to do this is by creating special boards that contain specifically curated styles. On your website it would make finding anything categorically on your website a nightmare, but on Pinterest it allows users to easily get ideas about how they can personally use your products. Ok soooo how can I do this? There are a few companies that have a free app for this – check out
Pinvolve
, it's super-easy. It simply pulls in all of your boards and pins from Pinterest in a simple interface that users can browse directly on your Facebook Page.
---
**** Super Mega Bonus Goal – BRAND ADVOCACY
This may be a stretch for most retailers – but think of it as something to reach for
If people love your products and they're on Pinterest, they will not only pin your stuff, but they might dedicate an entire pin board to your brand. Need proof people are voluntarily hawking products? Just look at some of the Diet Coke-related things I've seen:
The key to Pinterest, like with any aspect of marketing is to PUSH, PUSH, PUSH! Keep your account & pinboards fresh with new content and you will see a steady uptick of new viewers, re-pins and followers to come. Email our Pinterest Gurus at
support@wishpond.com
to get started with Pinterest Get a
Pinterest Tab
for your website and Facebook fan page.