Do you have clients with child-related products? Do you own a store for kids' or infants' stuff? With millions of parents actively posting on Facebook daily, for marketers of toys and kids stuff, your target is here. In this article, we'll show you how to reach your target market in droves through Facebook.
What ROI can you Achieve by Marketing on Facebook?
Increase engagement with more likes/ shares/ comments on your Facebook Page
Reach new customers, including friends and family of current fans
Promote your products to new markets
Obtain a deeper understanding of your customers through data pulled from Facebook's Open Graph
And ultimately, generate new and more sales
How do you attain the results you want?
At Wishpond, we want you to be the best marketer you can be. To do so, we've created a whole range of social promotion apps – making your successes a little easier. Additionally, in our All-in-One Marketing Suite, we provide exclusive analytics for you to track and measure all of your achievements. In this article, we will take a look at 3 of our popular apps, and explore how you can get the results you need.
3 Types of Facebook Promotions to use to Achieve your ROI:
Sweepstakes
Voting Contests
Photo Contests
Sweepstakes
Sweepstakes are some of the simplest types of contests. They can be set up in minutes and, like all of our apps, are automatically optimized for mobile. With a low barrier to entry, they are easy for users, which maximizes engagement. Users simply click 'Enter Sweepstakes', submit their email, and they're in. Once signed up, entrants automatically share a post on their Facebook profile, inviting their friends to join too. This generates buzz for your campaign and creates a potential viral campaign for your business. You get to collect entrants' emails, and you can track results in real-time to monitor campaign performance in our all-in-one marketing suite. Sweepstakes can be run for all kinds of products or gift certificates. You can use them to promote a new item your store has, or showcase a popular line of clothing, or just generate buzz. People like to win. Sweepstakes are a great way to cater to this desire. ProTip: The prize is key to making your sweepstakes a success. People are motivated to enter if they see the reward being worth it. And they will be more motivated if the prize is relevant to their wants. In other words, know your market and make the prize relevant to them and representative of your brand.
Example:
In the example, below, Sarah's Place set up a sweepstakes for a high end stroller, to entice customers to buy products from her social store. Her market caters to new moms, and this popular stroller is much sought after by her clientele.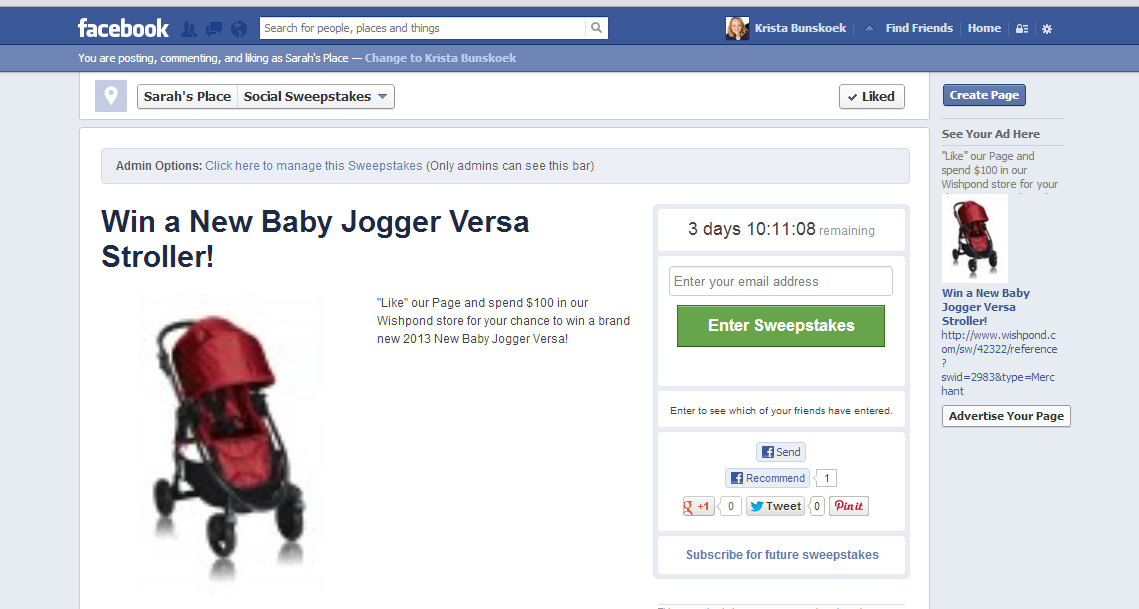 Vote Contests
A Vote Contest is another very easy contest to set up. And for your customers, they again provide a low barrier to entry. All voters need to do is sign in. Vote Contests are a great way to understand your fans, and they are some of the easiest ways to get users to interact with your brand in a personal way. After all, voting is asking your fans for their opinions. You can set up voting contests for all kinds of products. For example, you can set up a vote for which products should appear in your next product line. If you are choosing, say which Lego sets you want from your supplier on your next order, make it into a vote contest, and have your customers tell you what they want! You can set up voting contests for two similar products you have in your store right now. Get your fans to tell you what they prefer. And in doing so, you are also promoting that product for your customers to buy. And, going further, your voting could even be related to your brand, to reach your target market, without promoting specific products you have. For example, you might be marketing a popular infant product store. You could set up a vote, asking fans which they prefer: Cheerios or Apple Cinnamon Cheerios. You can set up team voting, community voting and even get people to like your Page to enter. Pro tip: Choosing the right products to vote on is important. Vote contests can get pretty passionate, if the chosen items resonate with your fan base. The more an item resonates with your fans, the more likely they will be to engage. They will also be more likely to share their vote, and get their friends to vote as well.
Example:
In the example, below, Sarah's Place is ordering new LEGO sets for their shop. They are promoting the upcoming shipment by showcasing three new sets they may be getting. By setting up an easy vote contest, her clients are made aware of the LEGO, they get to feel like Sarah is listening to them, and they may just get pretty excited about their favourite set. Once a fan votes, it shows up on their Facebook feed, so their friends and family can vote too!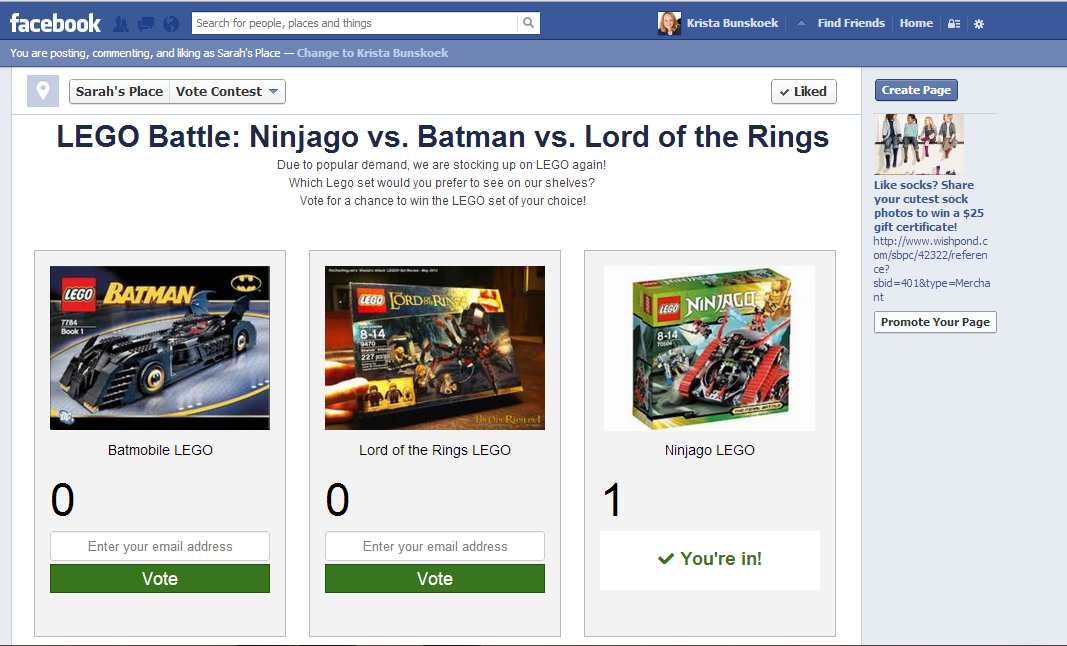 Photo Contests
Photo Contests are another great way to increase engagement. With cameras on every phone these days, photos and your market go hand in hand. Sharing cute kids pictures with friends and family is a natural with Facebook. And photos are generally the most viewed posts on Facebook feeds. The Photo Contests through Wishpond are again very simple to set up. For your customer, too, they have a relative low barrier to entry, with fans simply submitting their email, and uploading a photo. For creating buzz with family and friends and more, they can easily go viral, and you can gain access to markets you've never reached before. Did you know, for example, that
1 in 3 grandparents in America have a Facebook account
? You can bet that if their grandchild was in a photo contest on Facebook, they would be voting for their photo, and getting everyone they know to do so too! Your photo contest should have a theme. Your theme should be related to your products or brand or event you will be hosting. For example, if you sell children's clothing, and one of your better selling products were designer socks, you could set up a photo contest for cool socks. Get participants to submit their coolest photos of their kids wearing the coolest socks! Pro Tip: Having a great title for your contest is important. The more enticing it sounds, the more photo entries you will generate. Additionally, choose a theme that is both related to your brand, and is easy for your customers to get photos for.
Example:
In the example, below, Sarah's Place carries a range of children's socks, and a new shipment is coming in soon. They set up a simple photo contest to get their fans excited about socks. They are giving away a gift certificate to entice their customers to share a cool photo of their kids in their favourite cool socks. Because you need the most votes to win, contestants are motivated to share the contest and get their family and friends to 'Like' Sarah's Place's page, give Sarah's Place their email, and vote. By voting in the photo contest, it shows up in the feeds of family and friends as well.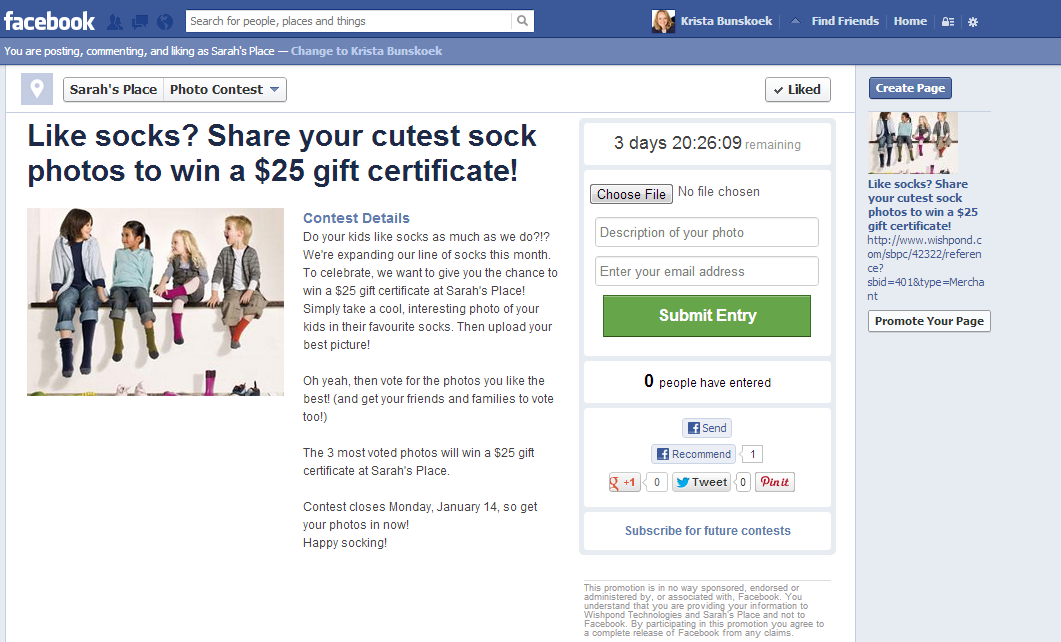 Wishpond also offers the following easy to use apps in our All-in-one Marketing Suite:
Video Contest
Pinterest Contest App
Photo Caption Contest
Social Store
and many more… Contact us now for a consultation, or to get started with a
free 30 day trial
 Written by Krista Bunskoek