Businesses Can Now Actively Engage and Reach Their Fans and Customers on Mobile, Web and Social Channels With Contests That Award User-Generated Content
---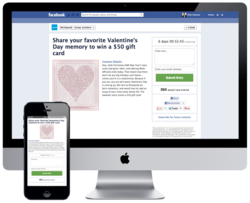 "Written text allows users to tell their stories and experiences using a brands'
products
in the easiest and most powerful way," said Ali Tajsekandar, CEO of Wishpond. "And unlike Photo and Video Contests, Essay Contests have a very low barrier to entry.
Vancouver, BC (PRWEB) January 09, 2013
Wishpond today announced the launch of its Essay Contest app, the only app of its kind that allows retailers and brands to create contests that harness the power of written stories on their Facebook Pages, websites and mobile, helping to boost a company's reach and engagement.
For example, a store that sells baby/toddler items can entice parents to write short entries about how they use their products to help them manage their parenting tasks. Entrants will be encouraged to invite their friends to vote for their entry to win – pushing the contest's reach throughout a person's entire social network. To find out more about the Essay Contest app, please check out /essay-contest/
Maximize Essay Contests on Facebook, Mobile and Web Channels
The Essay Contest app boosts Wishpond's All-In-One Marketing Suite by adding a new way for merchants to entice users to share their user-generated-content across all mobile, Web, and social channels. Merchants can now run multi-channel campaigns in tandem. For example, a business can run an Essay Contest along with a Video Contest at the same time on Facebook and Twitter to maximize user participation across different channels.
Wishpond's Essay Contest App also integrates directly with the Wishpond Analytics Dashboard. Merchants can use their Analytics Dashboard to analyze and send targeted emails about the contest to customers by groups based on age, gender, location and "Likes" data points that are pulled via the Facebook Open Graph. Better yet, Merchants can watch real-time analytics for each Essay Contest on their Campaign Report Page within their Wishpond Merchant Admin and even have the ability to moderate inappropriate entries in their contests.
Wishpond's Essay Contest app includes a robust package of capabilities:
Merchants can entice users to share stories about their experiences using their products
Built-in voting pushes entrants to share their entries with friends on their social networks to get more votes and boost the reach of each contest
The app is integrated with Facebook's Open Graph which allows the app to publish the "Enter" and "Vote" actions to users Facebook Timelines to give the contest reach to their entire Facebook network
Merchants can add a "like-gate" to limit contestant eligibility to only their Facebook fans
Like with all Wishpond contests, merchants can download all of the entrants' email addresses to add to their email list.
"Written text allows users to tell their stories and experiences using a brands' products in the easiest and most powerful way," said Ali Tajsekandar, CEO of Wishpond. "And unlike Photo and Video Contests, Essay Contests have a very low barrier to entry. People can enter a contest directly from their computer or mobile device when they land on the contest, as opposed to having to leave to take a photo or video."
Essay Contest App Rounds Out Wishpond's All-In-One Marketing Suite
Wishpond offers more than a dozen online marketing apps that cover everything from social promotions to customer engagement and analytics to ads and distribution. Here are a few of the apps Wishpond currently offers in its All-in-one Marketing Suite:
Pinterest Contest
Invite users to create a Pinterest board and vote on their favorites to win
Vote Contest
Marketers can engage users to vote on their favorite photos/candidates entered by them
Sweepstakes
Deploy a simple grand prize draw to entice users to become fans and join email lists
Pinterest Tab
Showcase boards and pins on Facebook Pages and websites
Social Store
Showcase products on Facebook Pages to turn fans into customers.
and many more… Pricing Single User Access to Wishpond's entire Marketing Suite from $29/m. Agencies Rates from $195/m. Shopping Center, White Label and Full-Service options are available upon request. See
https://www.wishpond.com
for product details and full pricing. About Wishpond At Wishpond, we believe there is a way to make online marketing easy. By providing the broadest set of online marketing tools available into our All-in-One Marketing Suite, we empower retailers and brands to attract, engage, understand and grow their customer base across mobile, social, online and local channels. Wishpond is a privately held company. Since its inception in 2009 Wishpond has grown to help more than 17,000 customers in North America and globally to effectively drive customer growth and engagement through online marketing channels.