5 Tips for Maximizing Your Facebook Contest
---
Have you tried running a Facebook contest but not gotten the return on investment (ROI) that you've seen so many other companies achieve? Want to know some tips that can help you optimize your next Facebook contest and get more Facebook likes?
In this article I'll discuss the top five tips to maximize your Facebook contest that I've seen work for our clients. Some of them may seem like common sense, but are actually what most people disregard. Nothing in life comes automatically, not even Facebook contest entries. So let's run down what you need to execute on to maximize your next Facebook contest:
Facebook Contest Tip #1: Post About Your Contest Frequently
---
One status update on your Facebook Page about your contest is not going to cut it.
Due to Facebook's Edgerank algorithm
, only about 16% of your Facebook Fans see each status update you make. So making just one post means that 84% of your Fans will never read about your contest. I recommend making one post per day about your contest. Or once every three days if you're promoting your posts with Facebook's aptly named Promoted Post feature. This is because a Promoted Post normally lasts for about 72 hours. And don't worry about fans reading about your contest more than once. Many times it will take seeing a promotion several times for a person to take an action. Create a sense of urgency in your daily posts by crafting "Only # of days remaining" posts. Check out an example of how we did if below for a recent contest we ran on Wishpond's Facebook Page: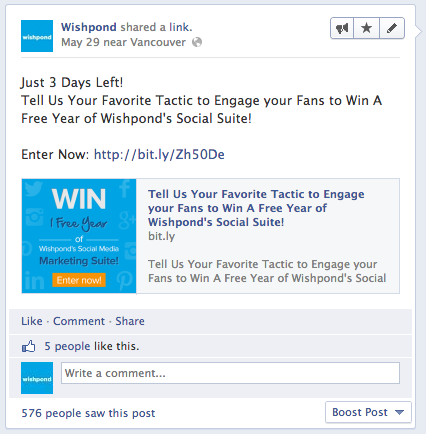 Facebook Contest Tip #2: Utilize Your Own Branding and Products
---
I've seen a lot of contests on Facebook. Some skyrocket, some do not. The contests that succeed are ones that appeal to the lifestyle and interests of the company's target market. The ones that do not are those giving away a free iPad mini, or other incentive totally unrelated to the brand. If you want your contests to give you the best ROI, keep them brand related. This keeps the motivation to enter related to you, your product, or your service. You'll attract targeted participants who are interested in your wares, and more likely to buy your product – not just 'like' you for your contest prize. Check out a recent Facebook contest below by Eggo Waffles. They asked fans to submit their favorite Eggo Waffles recipes to enter to win. This produced tons of user-generate recipes that use their product as the centerpiece – and probably caused more than a few people to buy Eggo Waffles to try the recipes themselves:
For more tips and examples of companies using their brand and products properly in their Facebook contests check out our recent article
10 Amazing Examples of Branded Facebook Contests Done Right
Facebook Contest Tip #3: Run Contests Frequently (1-2 per month)
---
Running Facebook contests regularly is the best way to keep users engaged with your Page. If you get them hooked with regular updates about new contests and winners of past contests, they will frequent your Page often to see what's going on. And try to mix-up the contests you use to keep them fresh. Essay, photo and photo caption contests are fun and easy for people to enter, so splice those in with the regular "enter-to-win" sweepstakes now and then. These user-generated contests especially get people engaged with your brand and discussing ways to use your products and services.
Facebook Contest Tip #4: Follow-up with Entrants to Create New Customers
---
If you follow
Facebook Contest Tip #2: Utilize Your Own Branding and Products
, then your Facebook contest will give you a ton of new leads who are interested in your products. The contest itself if just the first step to converting those leads into paying customers. Shortly after the contest ends you need to email them, with the email address you received from them when they entered the contest, to keep their interest in your brand up. As a consolation prize to non-winners, send a small coupon or discount voucher to use on your products or services. This will keep them happy even though they didn't win. It will also give them the opportunity to try out a product or service you promoted in the contest. Check out this example email below for some helpful tips on how to email your Facebook contest entrants once it ends:
Subject Line
A Thank-You Gift from [Your Business]
Body
Hi [name], Thank you so much for helping make our recent contest on our Facebook Page a huge success! We saw tons of awesome ideas from fans like you and are so glad you took the time to participate! Although you didn't win this time, we'd like to offer a small thank-you gift as a token of our appreciation. Attached to this email is a coupon for 15% Off your next purchase at [Your Business]! Just print it off and present it at the time of purchase to redeem it. And stay tuned for another contest soon! Best, [Your Business]
Facebook Contest Tip #5: Post your contests on popular contesting websites
---
Our final Facebook contest tip is probably the most under-utilized tip of all. If you're looking for a way to further promote or maximize your existing contest, without spending on advertising, post them on popular contesting websites. These websites attract thousands of users per day who love to enter and share contests with their friends and family. These users can bring you tons of entrants from different places. This is especially beneficial if you currently have low engagement on your Facebook Page.
Check out our list of the Top 19 most popular websites to post your contests to
. The majority of the websites are dedicated to pointing their visitors in the right direction by providing links to other companies' websites offering free merchandise/services – in turn providing links to your sweepstakes or contests.
---
For more Facebook contest tips, check out our article How to Run a Facebook Contest or our ebook The Complete Guide to Facebook Contests and Promotions
Related Articles