Google Plus for Business: Google Plus Hangouts
---
Google Plus Hangout is a free group video chat that allows up to ten people to have a video conversation with each other. The person who initiated the call is the "host", and has special privileges. While relatively simple in nature, there are a number of practical ways your company can use Google Plus Hangouts both internally and externally.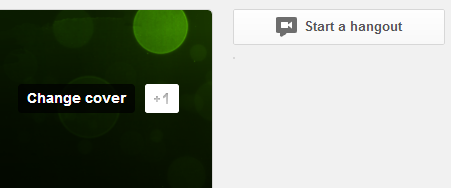 The "start a hangout" button is just right of your cover photo.
Direct Customer Engagement
Like many other video conferencing programs, businesses can use Google Plus Hangout to communicate quickly with clients, especially if both parties are accustomed to using Google Plus. For more visual industries, prototypes can quickly be showcased and explained to prospective clients, with instant feedback. Conversely, customers with a problem or defect with their product can use Google Plus Hangouts to quickly show your business exactly what the problem is, with instant customer service and directions.
Product Demonstration Sessions
Google Plus Hangouts can be used to provide more information or even training about new and innovative products that customers may not be familiar with. By doing a live video session, customers can ask questions and receive feedback in real-time.
Internal Meetings and Conferences
There are also many opportunities for using Google Plus with your own employees or suppliers. This could be used for large, international companies who want to have a meeting with different geographical departments, or even smaller start-up companies who want to meet with different parts of the supply chain.
Google Plus Hangouts: New Features
While these practical applications have always been present, and are generally benefits of any video conferencing software, Google has released some new technology that really pushes the business applications of Google Plus Hangouts to the forefront.
1. Symphonical
Instead of just being in control of the apps, the host can now set up something called Symphonical. This program puts a virtual wall inside Hangout so that participants can share and collaborate information and projects, which is saved to the Symphonical website for future use.
2. Hangout on Air
As of May 2012, hosts can now use a new feature called Hangouts on Air to to publicly broadcast the hangout to certain circles, allowing the host company to connect to international viewers and customers. Viewers can watch the Hangout from the host's Google Plus page, their YouTube channel, or any other site the video can be embedded. This also collects information about the number of viewers and automatically creates a YouTube video to the host's channel. Debating about which video conferencing software to use? We've written an article comparing
Skype, FaceTime, and Google Plus Hangouts
. Looking for a way to promote your business online? Why not take a look at
Wishpond's social media services
?
Written by Nick Steeves
---
Related Articles