---
How to Create a Successful Instagram Contest: Introduction
---
An Instgram Contest is the easiest way to get new followers and email subscribers from Instagram. Using a small prize as an incentive will drive tons of new users to participate and share with their friends. There are several different types of Instagram contests that can reach different goals: From simple "Like-to-Win" contests to increase Followers and photo Likes, to submission contests where winners are selected based on voting. Each has its own benefits. And in this article I'll show you how to achieve them.
An Instagram Contest is a great boost to your social media marketing. One contests can generate the same engagement and increase in Followers and hundreds of pieces of content, saving you hours of work. For small businesses and agencies, this time-savings is invaluable.
Let's get started
How to Create a Successful Instagram Contest in 5 Steps
---
1. Choose your Contest's Prize and Entry Method
The prize is the most important piece of your contest. It's what drives people to enter. Make the prize something relevant to your business.
The best contest prize is a gift card for your business. Why? Two reasons:
1. A gift card is enticing to every customer. Giving away a specific product or service will only drive entries from people interested in that particuar item. With a gift card though, you will attract entries everyone who's interested in your business.
2. It will only attract people who are interested in your – which is exactly what you want! If you give away an ipad you will get a ton of entries, but those people will only be interested in ipads, not your business. This will make it almost impossible to convert these contacts into customers for your business. Giving away a gift card ensures that entrants have an interest in your products, making it easy to convert them into sales.
Next, decide what users need to do to enter your contest. Do they need to submit a photo? Or just follow you on Instagram? What you ask for at the time of entry depends on your goals. Here are 3 entry methods to consider:
1. "Enter to Win": This requires a user to submit a photo from Instagram to be entered into the contest. For this type of entry method you can include voting to have the winner be chosen by total number of votes. I'll show you how to do this using an Instagram Contest App shortly.
2. "Like to win": This is the simplest entry method, with the lowest barrier to entry. All a user needs to do to enter is to "Like" one of your photos on Instagram. This will drive a ton of entries and Likes on your photo. But it will not give you any emails or contact information of the people who entered.
3. "Follow to win": This can be used as the only required entry method or in conjunction with both of the above. This just requires a user to follow your Instagram account to be entered to win the contest. This will drive a ton of entries and new followers. But it will not give you any emails or contact information of the people who entered.
2. Build your Contest Page
The contest entry page needs to be simple and exciting. It must get people excited about the contest and prize, and make it easy to enter. There are two different ways to create the contest page. If you're running your contest within Instagram then your contest page will just be an Instagram photo. Whereas if you run it off-Instagram – for example, in a Tab on your Facebook Page or website – using an Instagram Contest App, you have more freedom to create a full contest page. Here are the 4 elements of an Instagram contest page:
1. Attention-Grabbing Title: A short title phrased as a call-to-action is the best way to maximize entries. For examples, "Enter to Win a $50 Gift Card from Diamond Candles!" is both simple and informative – it tells visitors what they can do on this page, what the prize is and who is running the contest. It contains the essential information a person needs to feel informed enough to enter the contest.
2. Photo of the Prize: An image of your prize is a great way to entice people to enter to win it. If you're giving away a gift card (recommended), include an image with the gift card value in text and a product that people can buy with it.
3. Entry & Prizing Info: Include a short paragraph with info about the prize, how to enter and any rules or restrictions for your contest.
4. Entry Submission Form (For Instagram Contest App only): An entry form for an Instagram contest consists of a "Upload Photo from Instagram" button (which opens a window to allow users to choose a photo from their Instagram account to submit), an email address signup box and an "Enter Contest" button. It can also include custom fields like city, age, etc. to capture more personal details.
3. Promote & Share your Contest
With your contest created, it's time to promote it. There will be organic growth from entrants sharing with friends, but you will need a few promotional boosts in the beginning to create the initial seed. Here are 5 methods to promote your contest:
1. Send an email blast: Email your customer email lists – they will be the most likely to enter and share with friends to help jump-start your contest.
2. Promote your contest on social networks: Share on Facebook, Pinterest, Google+ and anywhere else you have a social presence. This is a great way to introduce users from other networks to your Instagram and get them hooked more into your brand.
4. Add a banner on your website: If you're an online business, you get the most traffic to your website, not your social network accounts. Capitalize on this traffic by including a banner on your homepage that links to your contest entry page.
5. Create a Facebook Ad:This is a great way to reach new customers outside of your current community. These ads can be very targeted to reach your demographic. (Only recommmended if running contests using an Instagram Contest App).
6. List your Contest on popular contesting websites: There are a ton of contesting websites that allow for free submissions. These are a great way to get access to new communities of customers. Check out our list of 19 websites to post your contest to.
4. Monitor your Contest
Depending on your contest goals, you may be interested in tracking submissions, photo created or new followers. Here are 3 methods for monitor metrics of your Instagram contest:
1. Hashtags: One requirement you can make is for every photo submission to include a specific hashtag. If you do this you can easily track how many photos are being shared on Instagram that have your contest hashtag.
2. Google Alerts: Set up Google Alerts to monitor mentions of your contest across the entire web.
3. Wishpond Campaign Reports: Wishpond's Instagram Contest App includes real-time campaign reports, which allows you to track views, entries, and conversion rates in real-time.
5. Post-Contest Email Follow-up & Promotion
Even after your contest is over, you can use it to promote your Facebook Page further. Here are a few suggestions on how to leverage your contest and keep your entrants engaged with your business:
1. Showcase winning photos on your Instagram account and other social channels.
2. Share a video showing you choosing the winning photo to create excitement.
3. Send a follow-up email to contest entrants to convert them into customers.
4. Post teasers for future contests on Instagram to keep your followers hooked.
All of these activities keep the momentum going and will prime followers for future contests on your Instagram account.
How to Create a Successful Instagram Contest using an Instagram Contest App (like Wishpond)
---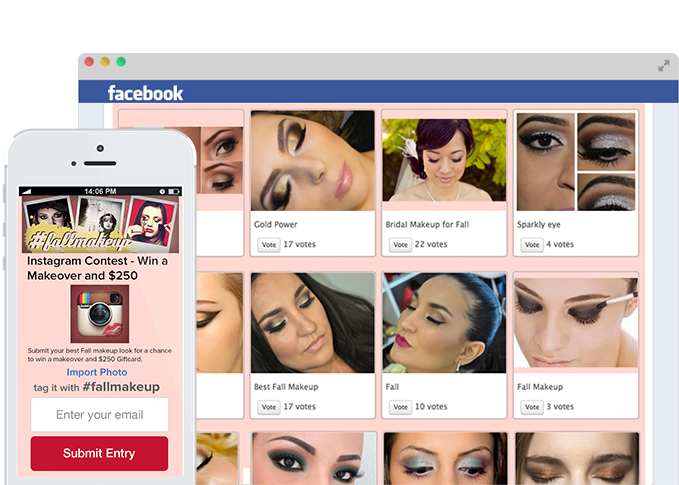 Instagram Contest Apps like Wishpond's make it easy to create a successful Instagram contest in just minutes. Using our simple fill-in-the-blank contest builder let's you put in your contest details and instantly creates a ready-made contest page, back-end CRM and reports. Here are the steps you take inside the Wishpond campaign builder to create a Facebook contest:
1. Build your contest by adding text, images and form fields to our contest template
2. Install the app on your Facebook Page, Twitter account or website, where it will automatically appear when it goes live.
3. Once your contest begins go to your Campaign Report Page to watch campaign stats like views, entries and conversion rate in real-time.
---
Related Articles