Group Offers App
Use Wishpond's Group Offers App to drive sales with coupons & special offers on Facebook Pages, Twitter Profile Pages, websites & mobile.
HIGHLIGHTS
Lauch a Campaign in Minutes.
Install the Group Offers App on your Facebook Page or Website, then create your first campaign using our easy Creation Wizard. Each campaign is optimized for mobile automatically.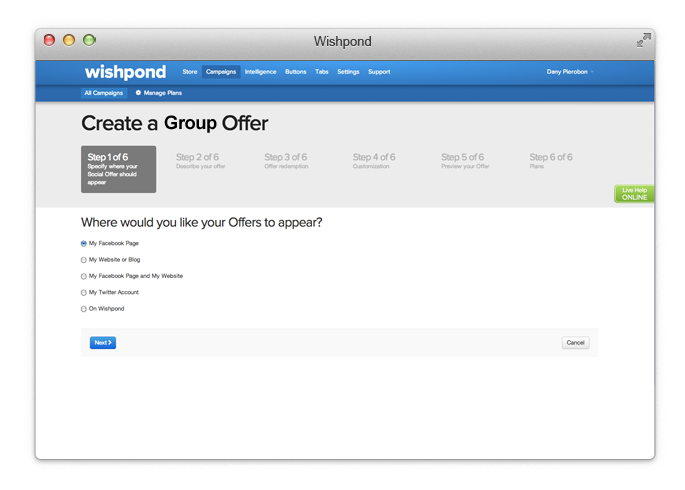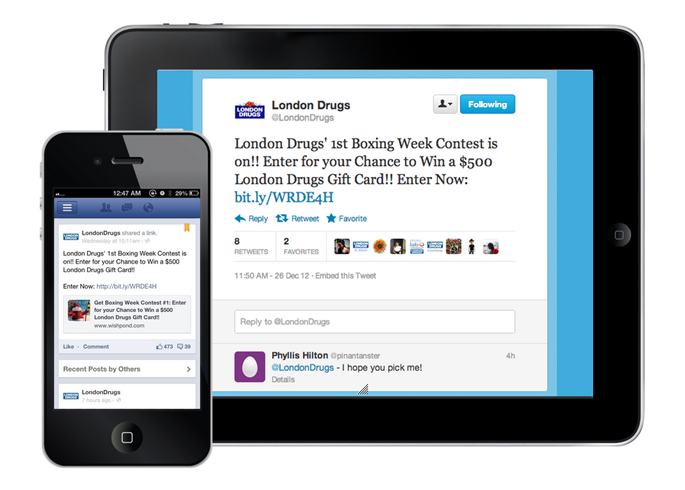 Share it to Build a Seed.
Share your Group Offers on each of your channels to build a seed for it to grow. We provide a unique link to use in each promotion for the call-to-action to enter. Clicking it directs users to optimized entry pages for your Group Offers, depending if they are on a desktop computer, tablet or mobile device.
Built-in Auto-Sharing
Every participant in Group Offers automatically shares a post on their Wall about your campaign. Wishpond's integration with Facebook's Open Graph makes this possible. You can even customize the share messages in the campaign builder!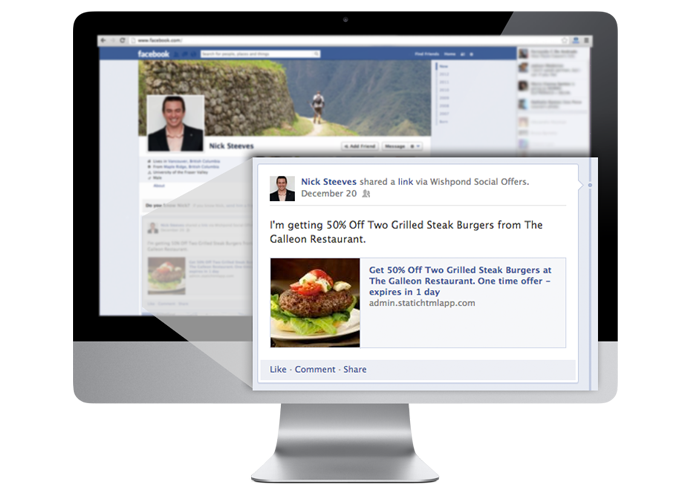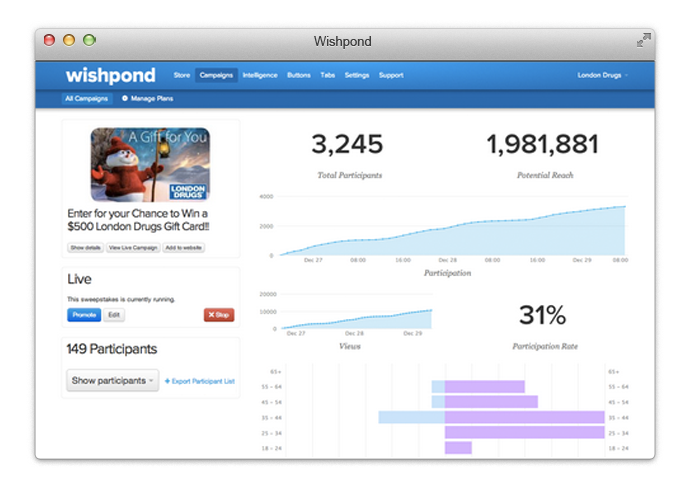 Real-Time Reporting
Track metrics in real-time to optimize your campaign as it's running, not after. Track views, participation, bounce rate and the potential reach of your campaign as they happen.
Collect Emails & Contact Data
Use Group Offers Apps' custom form builder to capture emails and personal details of every entrant. Wishpond's integration with Facebook's Open Graph automatically imports the entrant's name, age, gender, location and "Likes" into your Campaign Report and Contact Database.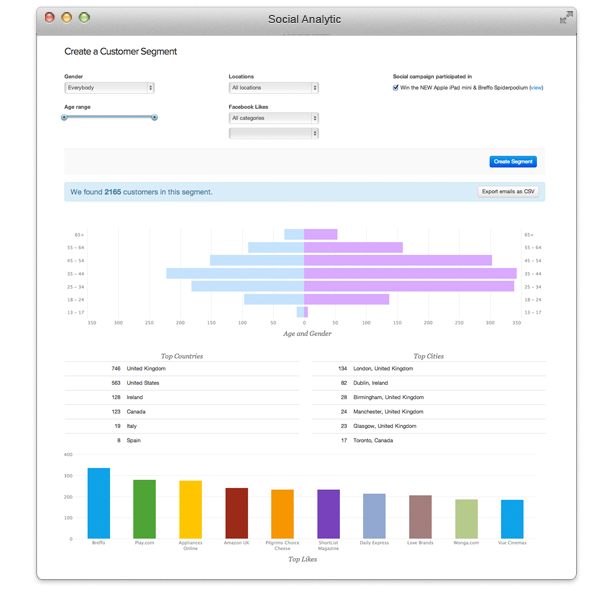 ALL FEATURES
App for Facebook Pages
Our Group Offers App is built to run in a tab on your Facebook Page. Users enter and share directly on your Facebook Page.
App for Twitter Profiles
Our Groups Offers App can be run directly from your Twitter Profile. Users enter and share on a Wishpond-hosted page with the look-and-feel of your Twitter Profile
Mobile-Compatible
We provide a link to share that directs users to optimized Group Offers entry pages for both desktop and mobile users.
Embed on Websites
Our Group Offers App can also be embedded into your website in addition to – or instead of – your Facebook or Twitter Page.
Built-in Coupon Codes
Auto-email entrants custom coupon codes to use to claim your offer/coupon.
Collect Email Addresses & Entrant's Data
Download all entrants' email addresses, name, age, gender, location & Likes automatically via Facebook's Opengraph. You own them. We never email your entrants.
Real-Time Tracking
Track campaign metrics in real-time during the run of your Group Offers.
Auto-Sharing by Entrants
Entrant's auto-share an invite with their friends on their Facebook Wall or Twitter Profile and in friends' Feeds.
Satisfy Facebook & Twitter Policies
Wishpond Facebook apps are built within all requirements in Facebook & Twitter's Promotions Guidelines.
CUSTOMIZATION OPTIONS
Custom Form Fields
Need to collect more info from entrants than email address? Add any fields you like and download in an excel file.
Custom Share Messaging
Customize all of the share messages and emails sent from your Group Offers.
Custom CSS
Change every aspect of apps' CSS stylesheets to fit your brand.
Translated in 35 Languages
Our apps have been translated into 35 languages, including all user-facing text and share messages.
Like-Gate Option
You can require that users "Like" your Facebook Page before they can enter your Group Offers.
Custom Header Banner
Upload a custom banner image to fit your brand.