Measuring Online Marketing ROI for Travel Agencies, Hotels, Resorts and Tour Operators : A Free Guide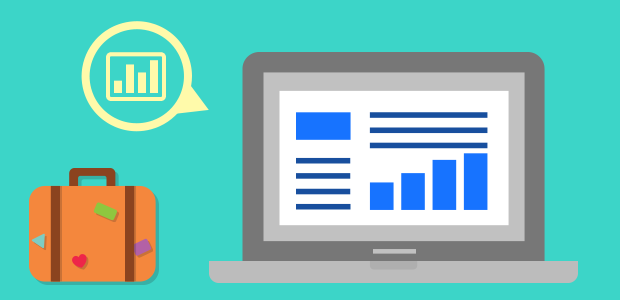 There are an unlimited amount of numbers to watch to measure your online marketing performance. But instead of discussing vanity metrics, we'll focus on actual dollars and cents – what really matters to your business' bottom line.
Your know that the real KPI's (key performance indicators) are customers buying, and the money in the bank. That's why we made Wishpond's analytics specifically to show you conversions in terms of spending, so you can see exactly how much it's costing you to make each sale. You can see the number of impressions on your ads, click-through-rates, and conversion rates on your landing pages.
Or, we can just give it to you in concrete terms…
So rather than a graph or chart, let's look at a hypothetical.
Let's say (for the point of math) that your spa's website is currently seeing internet traffic of 500 people a week.
And let's say that the page that your traffic lands on currently converts them to a booking at 5%.
Each conversion is worth, on average, $300 to your business (again, for the point of math).
Therefore, your website earns your business $7500 a week. With us so far?
Now, let's say that you decide to engage in the online marketing strategies you've seen in our other resource pages – an optimized landing page, online advertising (either Facebook or Google, or both), retargeting, and email automation to nurture a lead into a repeat customer.
A quick look at Google's Keyword Planner shows that (using the keywords travel agent, hotel, and tour company) in New York, NY will generate you about 50 clicks per week at a cost of $350.
A quick look at the Wishpond Facebook Ad tool shows that an ad targeted in New York, NY at people intending to travel will have an estimated reach of 86,000 people and generate about 150 clicks per week (with a 200 dollar weekly ad spend). Remember, though, that the conversion rates of Facebook traffic is much less than that of Adwords traffic on average.
This means that your online advertising efforts are driving about 200 more visitors to your website, bringing your landing page traffic to 700 per week.
Now, let's say that you optimize your landing page with either Wishpond's templates or your own A/B Testing. Adding an appealing image, clear CTA and customer testimonials increase the page's conversion rate by 30% – upping it to 6.5% – not a huge change, but wait…
The boosted landing page traffic, plus the increase in conversion rate, will earn your business $13,650 per week – an increase of $6,150.
But that's not all.
We've left out retargeting. If your page's new bounce rate is 93.5%, that means that 654 people are bouncing off your page without converting.
Because you can retarget those lost customers with new ads, you won't lose all of them.
In fact, the average click-through-rate on a Retargeting Ad is between 2.5% and 3.5% – meaning that you'll get back anywhere between 16 and 22 of your lost leads each week.
Those leads have a higher chance of converting than your standard web traffic does, but even if they didn't they would still earn your business about $370 per week (6.5% of 19, times 300).
So let's break down the ROI on this whole process. Your ad spend was $550 per week. Your Retargeting only cost you about 50 bucks, and your Wishpond landing page is part of the monthly package you arranged with our sales lead. Let's call it $650 a week..
All for a revenue increase of about $6,150 a week. That's a return on investment of 840%.
That's the difference between hiring a new agent, tour guide or concierge and taking out another loan. That's the difference between retiring at 55 and retiring at 60.
Feel free to check our math.
In a nutshell, if you follow our online marketing process and you …
Optimize your landing pages for conversion
Target the right audience with online ads
Use retargeting ad to bring back lost leads
Nurture your leads with email automation campaigns
… you can expect a 500% return on your investment.
Try it for yourself. Wishpond gives you all the tools you need to succeed, all in one platform. We make it easy to get results.
Written by James Scherer