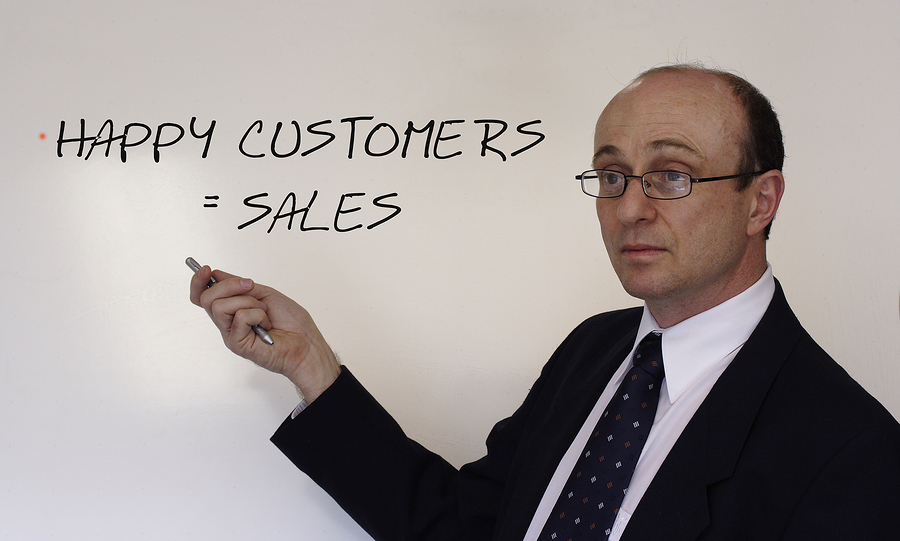 Don't wait until a PR crisis to work on customer retention. Many businesses wait until customers are  leaving before they even begin to discuss it.  Not only is it already too late, it's also causing the company to lose an unnecessary number of customers before something is done.  A proactive philosophy is always better than a reactive one. Instead of scrambling for a way to retain customers, businesses should use their online communities to increase customer retention.  Here is what online communities can do:
Show your customers that you listen to them.
All your customers want is to be heard.  It makes them feel safe to know that their concerns are noted and that something is being done about them.  Online communities help establish a two-way communication where customers can ask questions, and where your company can educate their customers on how to use their solutions.  These communities can also allow customers to learn about how your company chooses new features for their products.
Be proactive.
Identify budding problems, use your online communities to address these emerging problems and nip it in the bud.  This way, problems can be addressed before they grow into something actually damaging for your company.  Satisfy your customers before they need to reach out for help, and give your support team break.
Stay close to your customers.
Online customer communities are all about helping you interact with your customers.  Encouraging customers to participate in these online communities (through blogging, commenting on forums, and participating in events etc) helps increase a sense of loyalty and partnership for your company.
Produce exclusive, relevant content for your customers.
Help your customers succeed by providing them with valuable content.  It's not enough to just create content. By producing good solid content, your company and your online customer communities will become much more valuable to your customer.  Customers who become dependent on the content you provide are less likely to switch to a competitor.  Keep content interesting and fresh by going through different platforms and multimedia; writing blogs, and starting a how-to video series are just two examples of what you can do to create useful content for your customers.
Become an important part of your customer's life.
Periodically make sure that your customer community is doing its best for your customers.  Interview or survey your customers to get a better understanding of their problems to see if any new solutions are required to keep your customer community updated.  Aligning your organization more closely with your market's problems will prevent customers leaving in search of a more up-to-date and relevant company.
Help your customers succeed.
This is the ultimate goal for any online customer community. Your company needs to identify your customer's goals and make them a part of your organization.  Where your customers need help, your company must implement strategies to assist them in fixing the problems.  Celebrate successes and work with your customers to maximize those successes.
Customer retention is often under-valued for many companies, but it is extremely important to a company's success.  A company's ability to retain customers depends on the strength of the customer-company relationship, how effectively a company provides value to the customer, and whether customers are successful through the use of your products and services. Don't settle for average.  Aim to put your customers first in all aspects of your organization. 4 Platforms for Building Online Customer Communities
Facebook
Facebook Pages are a great place to start an online customer community.  There are many opportunities for customer engagement. You can easily create and post relevant content for all your customers to see.  
Diamond Candles
 is a small retailer who is currently using FB to communicate and interact with their customers.  They create regular promotions that they post onto FB to reward their loyal customers; they answer questions, and encourage customers to participate in discussions.
Twitter
Twitter is a great place to quickly field questions and to update your customers on what's going on with your company.  Comcast [
http://twitter.com/i/#!/comcast/comcast-cares-team
] does a great job with this.  They use Twitter to correct miscommunication on broadcast times, update their customers on the current status of new features, and keep customers informed on technical problems.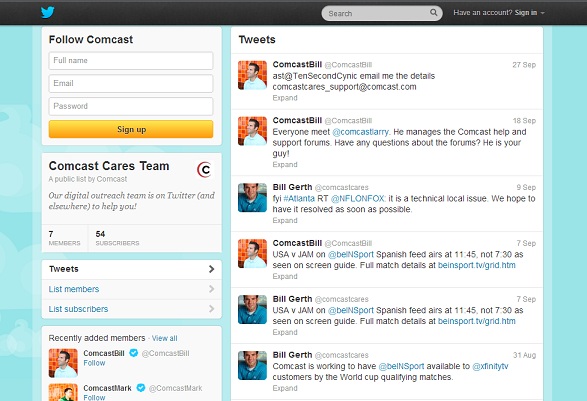 GetSatisfaction
GetSatisfaction offers a place for companies to interact with their community. It is a really good place for companies to help the community identify common problems, accept or reject customer-suggest ideas, as well as to field any questions. They also have a great feature where the most passionate community advocates can become "Champions" within the community and have a set of their own community organizational tools.  GetSatisfaction is also integrated into FB and Twitter. You can organize tweets, turn them into community topics, and resolve or respond to them through Twitter.
Mozilla
is doing a great job with GetSafisfaction at the moment.  They have questions answered, ideas under consideration, and common problems displayed clearly for all customers to see.  Mozilla has done a great job with keeping their customers informed and reassured that they are being heard.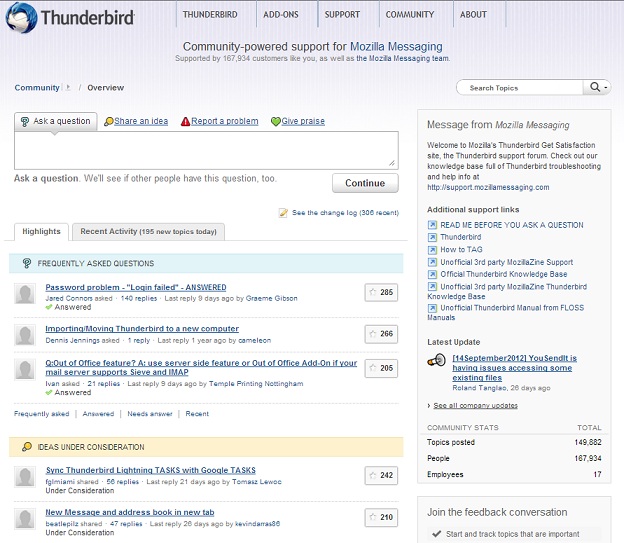 Zendesk
Zendesk is a service that integrates everything a company would need to provide excellent customer support into one interface.  Your support team will be able to communicate with customers through any channel.  It is mobile compatible, integrated with Twitter, chat programs, e-mail, and through the web browser.  A ticketing system is also provided that helps to streamline and simplify the management of support requests.  On top of that, Zendesk provides a forum your support team to collaborate with each other in order to solve a particular problem more efficiently and accurately. These are just a few platforms from which you can create an online customer community for your organization.  Whether you use one of these or others not mentioned in this post, customer retention will become a much smaller problem for your organization, if a problem at all.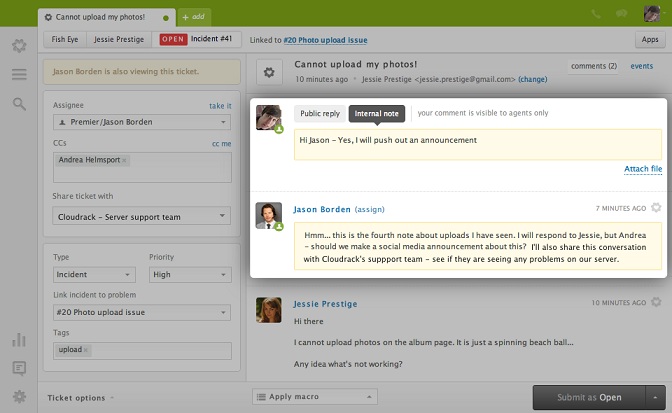 Sources http://info.socious.com/bid/58795/6-Social-Business-Strategies-to-Improve-Customer-Retention-Within-6-Months http://www.socialmarketingforum.net/2012/09/improving-customer-retention-using-online-customer-communities/