What is Like-Gating?
---
Like-Gating requires non-fan entrants to Like your page in order to enter the campaign. This is the easiest way to increase your Facebook Likes – within Facebook's Promotional Guidelines.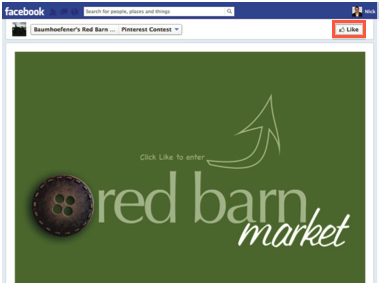 A Like-gate is usually a simple image with text telling users who have not yet Liked your Facebook Page that they need to do so in order to access the current contest.
How does Like-Gating work?
---
Through the Facebook Open Graph, 3rd party apps can detect whether a Facebook user has Liked your Page or not, so only non-fans will be shown the Like-gate image.
Once a non-fan Likes your Facebook Page, the app will automatically reload to show the default entry or voting page on which the user can enter the contest.
Most 3rd party Facebook apps, including all of Wishpond's, have Like-gating as a built-in feature, so that they can easily be enabled for any of your contests.
Is Like-Gating against Facebook's promotions guidelines?
---
No! As the act of Liking the Facebook Page does not enter a user into a contest, it is within Facebook's Promotional Guidelines. On the flip side, if you run a contest that uses Facebook's functionality as an entry or voting mechanism, then you are in violation of Facebook's Promotions Guidelines. Specific contest actions that are not allowed
Commenting on a picture on a Facebook Page to enter a contest
Posting a Facebook Page's Wall to enter a contest
Having a winner of a contest be determined by the number of likes their entry receives
Having users post something on their own Wall in order to be eligible to win a contest
What is the typical drop-off rate for Like-Gated Contests?
---
Typically you can expect a very minimal (~10%) drop-off rate for your contest due to a Like-gate. Using a Like-gate is more than worth this drop-off, as the other 90%+ of non-fans who do Like your Page will have opened a new avenue to market them again and again.
I suck at photoshop! How can I get a professional Like-Gate image for my contest?
---
Most 3rd party Facebook apps, including all of Wishpond's, have default like-gate images that look great and are tailored to the type of contest you're running.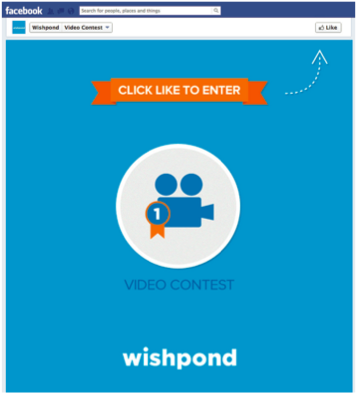 Check out "Cross-Channel Promotion"